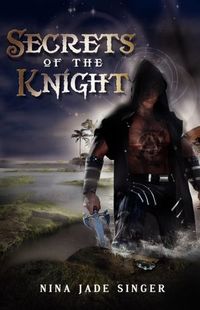 Purchase
Crescent Moon Press
September 2011
On Sale: August 21, 2011
Featuring: Thomas (Bo) Bowden; Nicole Balian
ISBN: 1937254100
EAN: 9781937254100
Kindle: B005IXSSJY
e-Book
Add to Wish List

Several years ago life forced Thomas (Bo) Bowden to give up everything, including the woman he loves, and take refuge on a Caribbean island. Little did he know, he was taking the first step to fulfilling his mystical destiny.
Nicole Balian has come to the small island of Trenado to find a missing teenager. She's shocked to the core to find her former lover instead. And the attraction between her and Bo is as strong as ever.
Working together to solve the unexplained disappearances plaguing the island, they find themselves in a frightening world of voodoo and magic. Trenado's history is shrouded in supernatural mystery. The danger they face serves to reignite their love. But as Bo fights an ancient evil that haunts the island, will Nicole be able to save the man she loves? Or will she lose him once again, this time forever?
Comments
27 comments posted.
The first paranormal romance movie that came to mind is Ghost.
Good luck and happy writing!
(Tracie Travis 1:59am February 13, 2012)
Hi! Happy Valentines Day! (early, LOL) Your book sounds terrific and I will enter your contest, but will have to give the prize (if I win) to my granddaughter, who has a Kindle Fire. I would have no other way to read it. I hope to win one of those someday. I would have to agree with Tracie as that was the first movie that came to me also. Loved that movie!! Look forward to reading some of your books, as I just found you. Best of luck to all! Thanks for having contests so we are able to win your books. Hope you have a wonderful Valentines Day!
(Cheri Minott 6:19am February 13, 2012)
happy valentines day i want to read this book
(Debbi Shaw 10:33am February 13, 2012)
Movie-wise, I'll have to say Twilight.... Congrats on your book!
(May Pau 10:44am February 13, 2012)
My favorite book that I read just lately was Roses by Leila Meacham. Although it's a bit lengthy, I couldn't put the book down, and got through it in a couple of days. It's a love story that goes on through an entire lifetime, and I don't want to spoil the plot, but it is worth the look. If you want something lighthearted, there's always the Stephanie Plum series by Janet Evanovich. It has its' hot areas, as well as a plot to follow along. I'd advise to start at the start of the series, though. I also enjoyed reading the Bridges of Madison County. For some reason, I'm drawing a blank this morning, and it's the best I can come up with on short notice. I'm not near my books. Have a wonderful and Happy Valentines' Day!!! Congratulations on your book, too!! May you have many more!!
(Peggy Roberson 11:56am February 13, 2012)
I'm not near my books, so this is coming off of the top of my head. The book that I can't get out of my head for romance would be Roses by Leila Meacham. It's a bit lengthy, but because the story is so compelling, it only took me 2 days to read. I would love to say more about it, but don't want to spoil the plot. For something a bit more lighthearted, I would suggest the Stephanie Plum series by Janet Evanovich. It's always good for a laugh, and has a decent plot. I would start with the first of the series, and take it from there. I hope you have a Happy Valentine's Day, and may I congratulate you on your book!! I hope you have many more!! Can't wait to read it!!
(Peggy Roberson 12:02pm February 13, 2012)
I love the movie EVER AFTER... I enjoy watching it over and over again... as for fav books, I have enjoyed so many from different authors...
Happy Valentine's Day!
(Colleen Conklin 1:14pm February 13, 2012)
Hi Tracie. Thanks for your comment! Of course, Ghost is a great one! I doubt
there will ever be another the likes of Patrick Swayze.
(Nina Singer 1:39pm February 13, 2012)
HI Cheri.
Thanks for stopping by to read the post. If you're the lucky winner, I can
accommodate other formats. Happy Valentines!
(Nina Singer 1:40pm February 13, 2012)
Hi Debbi
Thank you for your comment. Hope you have a great Valentines day!
(Nina Singer 1:43pm February 13, 2012)
Hi May Pau.
I'm so glad you stopped by to read the post! Twilight is one of those movies I
can watch over and over. Same goes with reading the books.
(Nina Singer 1:46pm February 13, 2012)
Hi Peggy.
Thank you for your comment! I've been meaning to read that book for a while
now. Thanks for reminding me!
(Nina Singer 1:47pm February 13, 2012)
Hi Colleen.
Thank you so much for your comment! Ooooh, Ever After is a really good one.
(Nina Singer 1:48pm February 13, 2012)
My first paranormal was Always, I fell in love
with it and wanted more, but at the time it
wasn't a popular genre as it is now.
As far as movies go humor - The Frighteners or
Buffy the Vampire Slayer .. for visual
entertainment Hellboy, Afraid of the Dark, Pan's
Labyrinth- I love the illusion, imagery, and
depth. Hope you get a chance to enjoy them.
(Carla Carlson 1:56pm February 13, 2012)
I think the other attraction of the Vampire is the whole Alpha/tortured hero thing. As for paranormal favorites, right now I'm loving Being Human. Vampires, werewolfs and ghosts, how great is that?

Your book sounds awesome! The Carribean and a hot hero sounds like the perfect remedy to those of us who are freezing up in the northeast.
(Denise Eagan 2:19pm February 13, 2012)
Thanks for the comment, Denise!
I've only seen episodes of the British Being Human. Scary good!
(Nina Singer 3:07pm February 13, 2012)
Hi Carla,
Thank you for stopping by and commenting on the post! I've always loved The
Frighteners.
(Nina Singer 5:08pm February 13, 2012)
I enjoy all of these programs & films mentioned! Thanks
everyone for bringing them to my mind again.

There is one old black & white movie I saw called 'The
Enchanted Cottage' which has stayed in my heart and it
really made me cry happy tears. Have a happy heart day
tomorrow!
(Susan Jeffers 6:24pm February 13, 2012)
My favorite paranormals (or at least the on that first comes to mind) would be
Christine Feehan's Carpathians. I also like the "Anita Blake" series by another
great author whose currently escapes me. There is also the Jeaniene Frost's Cat
& Bones series. Enjoy!
(Sandra Spilecki 7:58pm February 13, 2012)
Happy Valentines Day and Congrats on the book. I've never
read a paranormal romance before. I'm more a period piece
romantic. But I'm willing to step outside the box from time
to time.
(Karen Gales 8:01pm February 13, 2012)
I love When Harry Met Sally and The Princess Bride. I think they really stand the test of time (if you can forgive the costumes in When Harry Met Sally). There are so many romance books I love that it is really hard to choose.
(Jennifer Beyer 10:23pm February 13, 2012)
I don't think I have come across romance I don't like. I just love reading about love. Paranormal, fantasy, contemporary, does not matter to me.
(Patti Paonessa 10:23pm February 13, 2012)
My favorite paranormal books are the Sookie Stackhouse series by Charlaine Harris. Love Sookie, those vamps, and the weres.
(Cathy Phillips 11:15pm February 13, 2012)
The movie/tv show Highlander is still a favorite of mine. I enjoyed Evageline Anderson's "Claimed" series recently. There are so many wonderful books out there it is hard to pin them down.
(Lisa Kendall 2:38am February 14, 2012)
I like romance with a touch of food like Louisa Edwards book, I'm All Steamy. Food and books go well together.
(Alyson Widen 5:41pm February 15, 2012)
I have too many to name then all, but Feehan's Carpathians,her "sister" series, Kenyon's Dark Hunters,Briggs'Mercy and Alpha Omega series,Stephanie Plum, Charlaine Harris's books,Highlander,Jeanine Frost,Gerry Bartlett,Katie MacAlister,Lara Adrian,Lindsay Sands,Lora Leigh,Lucy Monroe,Alexandra Ivy,Susan Sizemore,Christine Warren,Carrie Vaughn,and many more have created worlds and heroes for me,and I just keep adding them,like Lydia Dare, Terry Spear,Gena Showalter,and I better stop before I run out of room!As to a movie,I'm usually disappointed if it comes from a book,but I did enjoy Ghost,and an old black and white that I don't remember the title,but it was about a woman who moves into a seaside cottage haunted by the former owner,a grouchy sea captain,and through time they fall in love.He does what he can to look after her,and when she dies at a fairly advanced age,they are together,forever.True,I wasn't totally happy with the ending, but it is just as good as those movies where he/she moves on to someone else.Right?
(Mary Holden 6:40pm February 17, 2012)
Mary - That movie is 'The Ghost and Mrs Muir.' Love it!
(Susan Jeffers 3:08am February 18, 2012)
Registered users may leave comments.
Log in or register now!