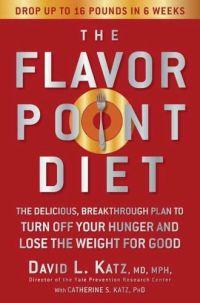 Purchase
The research-proven new diet that enables you to lose weight quickly, safely, and for life—simply by combining foods by the right flavors, at the right time!
Rodale
December 2005
304 pages
ISBN: 1594861625
Hardcover
$24.95
Add to Wish List

From Dr. David Katz comes a groundbreaking diet that maximizes eating pleasure, optimizes health, and guarantees permanent weight loss. And it doesn't require any calorie counting or restrictions on food groups. Supported by scientific research at the Yale Center, this new diet is proven to improve blood sugar, lower blood pressure, and even reverse key markers of diabetes and heart disease!
By combining foods selected by flavor, The Flavor Point Diet tricks the brain into being satisfied all day long, so readers don't eat when they don't need to. Following "flavor themes," readers will learn how to artfully combine the right flavors and to separate the wrong ones in order to reach the Flavor Point—the moment at which they feel completely full and deliciously satisfied. They'll find it takes less food—and calories—to turn off their brain's appetite center—and they'll enjoy weight loss that will last a lifetime.
With 6 weeks of menu plans, over 100 new recipes and dozens of tools on how to adapt the plan to one's personal taste and lifestyle, here is a complete blueprint for using this scrumptious new method for life.

Media Buzz
Good Morning America - April 26, 2006
Good Morning America - February 13, 2006
Good Morning America - February 6, 2006
Today - January 25, 2006
Good Morning America - January 10, 2006
20 / 20 - November 25, 2005
Good Morning America - November 25, 2005

Comments
No comments posted.

Registered users may leave comments.
Log in or register now!