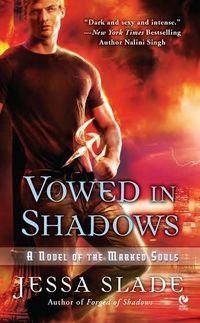 Purchase
Marked Souls #3
Signet Eclipse
April 2011
On Sale: April 5, 2011
Featuring: Jonah Walker; Nim
400 pages
ISBN: 0451232984
EAN: 9780451232984
Kindle: B004IYITZM
Mass Market Paperback / e-Book
$7.99
Add to Wish List

Romance Paranormal | Fantasy Urban
The war between good and evil has raged for millennia, with the marked souls caught in the middle. Now two lost souls will tip the balance...
Possession by a demon cost Jonah Walker his faith, his humanity, and his wife. Now he endures immortality with nothing but a body build for battle and a bent for retribution. But his last devastating fight left him wounded beyond healing, and his only chance to redeem himself lies with a fallen woman.
Thrust into a wicked underworld, Nim Hamlin can't believe her wanton ways as the "Naughty Nymphette" enthralled a demon...and a damned saint. The world she knows doesn't deserve deliverance, but Jonah's touch holds an unholy allure - and she's never been any good at resisting temptation.
As darkness gathers in the sweltering Chicago summer, Jonah and Nim must conquer the demons of their past to face even fiercer monsters as their passino ignites a furious power. Only their sins can save them now...
Marked Souls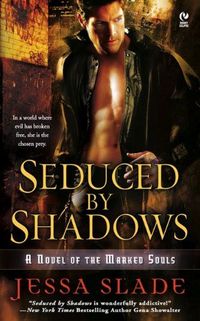 Seduced By Shadows
#1.0
Amazon.com | BN.com | | |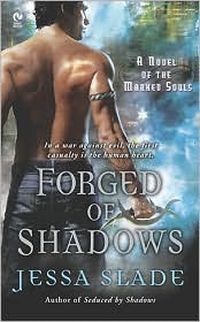 Forged Of Shadows
#2.0
Amazon.com | BN.com | | |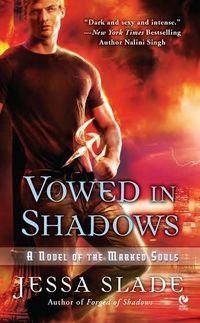 Vowed In Shadows
#3.0
Amazon.com | BN.com | | |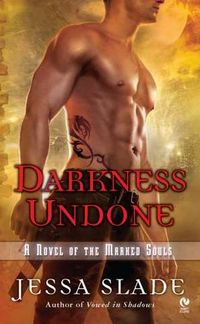 Darkness Undone
#4.0
Amazon.com | BN.com | | |
Comments
37 comments posted.
Re: Vowed In Shadows

annja creed/ though not sure if romacne heroine , in rogue angel.. she is tough and i would love to be a adventurer
(Tami Bates 3:21am April 11, 2011)
Not sure which character i'd like to be because that varies by reading and i love various reading styles. The characteristics i admire the most is the sexy, smart, trusting type. I love the men to be strong and protective. Your story sounds like a wonderful and exciting read !!
photoquest(at)bellsouth(dot)net
(Lori Barnes 7:57am April 11, 2011)
Which character...oh now that is a tough one! But I love how your character is smart, sassy and strong...that is how a woman has to be these days!!
(Dawn Staniszeski 8:48am April 11, 2011)
I can't give a specific character but I will give the type of character I would like to be. I would want to be a survivor. Something terrible happened to her that she must overcome. She is a fighter that does exactly what she wants. I think it is great when she meets the right man and is able to trust him enough to let him help her. I love a protective hero.
(Stacie Deramo 8:58am April 11, 2011)
I can't think of anyone actually. I was going to say Eve from J.D. Robb originally because of her husband Roarke but she had such a tough childhood. I don't think that I can survive such a rough time...
(May Pau 9:59am April 11, 2011)
If I can be any romance heroine, I will choose Cat Crawfield from Night Huntress series by Jeaniene Frost.
She's can kick ass, sassy, witty and stubborn too. Some of her persona is like me (I'm kinda stubborn and never look down a challenge).. And.. she has her sexy British Vampire.
Who will not love Bones? *g*
(Renanda P 10:21am April 11, 2011)
SCARLETT O'HARA..ENOUGH SAID!
(Silvana Moscato 10:55am April 11, 2011)
I don't know which character I'd like to be. I'd love to win this prize.
(Wilma Frana 11:02am April 11, 2011)
Not sure what character I would like to be, because there have been so many different ones I have read about. I do know I like the character to be strong and smart but with a bit of gentleness to them.
(Jean Patton 11:14am April 11, 2011)
That is a very hard question to answer. There are so many strong, independent heroines that I wouldn't mind being. I guess it would depend on the Hero! *wagging eyebrows*
(Cynthia Netherton 11:28am April 11, 2011)
I love reading urban fantasy and paranormal romance. Frankly, while I adore reading about the heroine's adventures, battles, and trials to reach a happy ending, I wouldn't want to experience it myself. So I guess I wouldn't want to be any of those heroines. But I love the strong, intelligent, quick witted aspects of the characters from the books I love most.
(G. Bisbjerg 11:44am April 11, 2011)
I read so many genres that finding just one character to emulate would be
impossible. As I read I sometimes imagine my self in the place of the main
character but think I do things differently. I like intelligence that is not totally
revealed so that the character has what's hidden to fall back on to outsmart
the ones causing trouble. I like a "hero" to appreciate that in a heroine
instead of feeling threatened by it.
(Sandra Spilecki 11:47am April 11, 2011)
Isn't it fun to read about people who are not like us, and obviously, the opposite. Fun as well sometimes to pretend a little.
Blessings,
Marjorie
(Marjorie Carmony 11:53am April 11, 2011)
I've always said that reading a book allows me to take a mini
vacation, to places and worlds I'll never see and to become a
character I'll never be.
(Lisa Richards 12:07pm April 11, 2011)
Sherlock from Catherine Coulter's FBI Series; she's smart, tough, gorgeous, and got the great guy in book one and he still worships her! ;)
(Kelli Jo Calvert 12:12pm April 11, 2011)
Nim sounds like a really compelling character...one you would think you will not like, but who wins your allegiance anyway. This book sounds very much like science fiction, and I have rediscovered science fiction lately, and I would love to read this one.
(Sandy Fielder 12:52pm April 11, 2011)
I would want to be a character that is confident, strong, a bit sassy, and sexy of course!
(Colleen Conklin 2:13pm April 11, 2011)
Pole Dancing!!!That's a topic that sounds enjoyable exotic reading
(Carol Conerly 2:56pm April 11, 2011)
I love the kick ass heroines, smart and sassy!!! I think I'd love to be Eve Dallas and have Roarke....yum!!!!

Valerie
in Germany
(Valerie Bongards 3:15pm April 11, 2011)
I can't think a of specific character but I love reading about heroines who are smart, strong, sassy, cofident, and determined to succeed and get what they want.
(June A, Manning 3:23pm April 11, 2011)
Totally LOL'ed when I first read about your butterfly bush!!

I love to read about anyone ... it's nice to live like you're the kick ass heroine for a day or so. Or however long it takes to read the book. And when I'm having an altercation with someone, I've definitely called on a few of my favorites and pulled up a few traits that weren't mine!!
(Kimberly Isely 3:35pm April 11, 2011)
Strong and Sassy
(Phil Randall 3:38pm April 11, 2011)
If I could be any heroine it would be Sky O'Malley from Bertrice Small's Sky O'Malley saga. I have never read a stronger heroine. I could write down her qualities and it would take at least a page. I wish I had even half of her strengths.

Thank you so much for the giveaway.
(Linda Young 4:10pm April 11, 2011)
Cathy from "Wutherings Heights". Such tortured & encompassing love. I admire strength in my heroines. Cathy may not exactly fit this but to feel such excruciating passion in one's life.....
(Mary Preston 4:57pm April 11, 2011)
What character do I most want to be? I guess that depends on what book I am reading at the time. I tend to like the heroine of most romance books.
(Robin McKay 6:38pm April 11, 2011)
I would want to be the sassy, kick-ass heroine type of urban fantasy. I think of Kate Daniels for an example.
(Carol Drummond 7:58pm April 11, 2011)
I would like to be Libby from Sable Hunter's "Cowboy Heat." Se is talented, but modest about it. Ranches and cowboys provide the perfect plot for romance.
(Gladys Paradowski 8:37pm April 11, 2011)
What a wide range of answers! I think it says a lot about how
there are many ways to be a strong heroine.
(Jessa Slade 8:45pm April 11, 2011)
Sascha Duncan from Slave to Sensation from Nalini Singh.
(Cherie Japp 9:08pm April 11, 2011)
With the mood that I'm in tonight, I'd have to say that I'm like Janet Evanovich's Stephanie Plum - not looking for trouble, but it always seems to find her. She also has Joe to turn to, and of course, there's Ranger -- Yum!! Her life is a mess at times, yet she can take control. My life has been pretty much like that lately - all except for the fact that I have no Ranger. Great post, can't wait to read your book!!
(Peggy Roberson 9:10pm April 11, 2011)
I personally love how well written characters are that the heroine is the person you admire and want to be, their flaws are outweighed by their good traits and hopefully some characters can and have inspired you over the years as they have me. I have always loved Scarlett O'Hara for her strength and even her manipulation, but learned from her not to overlook the love that would be right in front of me, to indulge in that passion.
(Carla Carlson 10:12pm April 11, 2011)
Not sure who I'd be by name, but it would be someone who is
totally feminine, wealthy but happy, and I'd have a totally
romantic partner who appreciated me for my worth as a person
and a woman!
(Leanna Morris 10:29pm April 11, 2011)
Today I would like to be Minerva Sharpe from Sabrina Jeffries' The Hellions of Halstead Hall Series. She is daring and has the guts to be a writer in 1825 and to publish and brag in her own name. She is strong but not hard. Of course my wish changes based on what I'm reading. Many times I revert back to wishing I was Pia from Katie MacAlister's Dark One series. lisa gk at yahoo dot com
(Lisa Kendall 10:31pm April 11, 2011)
not sure of a specific heroine but love your list of Smart, Sassy & Strong!
(Diane Sallans 11:04pm April 11, 2011)
Kinsey Milhone - independent, self-reliant, smart, and likes a good peanut butter sandwich!
(Robin Daily 12:44pm April 12, 2011)
From Wuthering Heights Cathy to Stephanie Plum! These are
amazing answers!
(Jessa Slade 12:55pm April 12, 2011)
Claire Frasier from the OUTLANDER series. Look, this woman traveled through time, not just once, but several times to be with the man she loved. Not only did she travel through time, but she went back in time, giving up all of todays luxuries. Now if that ain't love, I don't know what is!
(Amy Conley 4:39am April 12, 2011)
Registered users may leave comments.
Log in or register now!