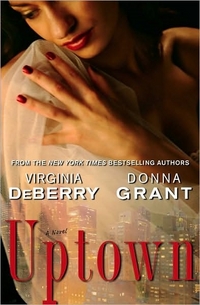 Purchase



In Uptown, when money, power, and real estate are at stake, family bonds and loyalties are strained to the breaking point.

Simon & Schuster
March 2010
On Sale: March 2, 2010
Featuring: Dwight Dixon; Avery Lyons
331 pages
ISBN: 1439137765
EAN: 9781439137765
Trade Size
$14.99
Add to Wish List


Contemporary | Multicultural African-American

ENTER THE WORLD OF UPTOWN

Uptown . . . where money rules
Uptown . . . where ambition trumps tradition
Uptown . . . where politics come before everything
Uptown . . . where a family's secrets will bring them together—or down


After twenty years away, Avery Lyons returns to New York when her mother and uncle suffer a serious car accident. The tragedy brings the family together, but Avery is not happy about the impromptu reunion. She no longer recognizes the Harlem of her childhood, but the same old family dynamics and secrets are all too familiar . . . Heir to a real estate empire, Dwight is willing to do anything to realize his aging and demanding father's dream: Dixon Plaza, a luxury high-rise development on Central Park North that will change the face of Harlem forever. There's only one thing in his way: his cousin Avery has inherited a share of the property. She's more than willing to sell until a reporter uncovers the truth behind the rumored shady dealings . . . In Uptown a prominent Harlem family is strained to the breaking point by the high-stakes world of the Manhattan real estate industry, and one woman searches for her identity and the will to forgive. Steamy, provocative, and sexy, Uptown is a turbulent and triumphant read.
Comments
6 comments posted.
Re: Uptown

As a reader I don't see color. I'm surprised the issue even comes up.
(Mary Preston 5:45pm September 15, 2010)
I don't think so, I've never thought of a color in conjunction with a book or story.
(Brenda Rupp 9:11pm September 15, 2010)
Having grown up in the times where authors didn't have their picture on the back (or anywhere else) of the paperback, I never knew the race of the authors of the books I read, unless it was extremely obvious because of the name, which usually would have had an oriental/eastern spelling I would struggle to pronounce, give up on, read the book, and usually enjoy it. Did I care the author was not white? No. Did it occur to me to care? Again, no. Why should it have? The books were well written, engaged me, made me think and let me escape to a different world, and that was what mattered then, and still does now.

The reason I now knowingly read books by women authors who also happen to be black is if their picture is on/in the book I'm reading, or what is more likely, they've been featured here on FF, with a picture, and an excerpt which grabbed my attention, and got me out to the bookstore to buy the book. Did the fact that they are women authors who are also black matter? No. What matters to me, no matter the race, gender, orientation, whatever of the author is good writing. That's my criteria for a book purchase, and nothing else.

Later,

Lynn
(Lynn Rettig 9:50pm September 15, 2010)
Thank you Mary, Brenda and
Lynn--for reading and for your
comments. It's heartening to
know that there are readers
for whom story and good
writing is all that matters.
You'd really be surprised at
some of what we hear. But we
expected a welcome reception
for this topic here at Fresh
Fiction where our experience
has always been positive and
uplifting! We shall write
on...
(Virginia DeBerry 10:50am September 16, 2010)
I do not believe stories have to have a color, but some do anyways usually to make a point about race or ethnicity.
(Alyson Widen 2:03pm September 16, 2010)
For me, it is all about the story, the journey for characters... I want to read how the characters find their HEA.
(Colleen Conklin 2:32pm September 16, 2010)
Registered users may leave comments.
Log in or register now!