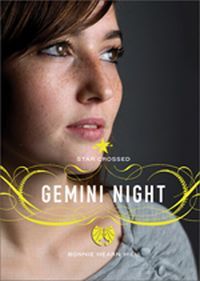 Purchase
Reach for the Stars!
Star Crossed #3
Perseus Books
November 2010
On Sale: November 6, 2010
304 pages
ISBN: 0762436727
EAN: 9780762436729
Paperback
$9.95
Add to Wish List

Logan McRae's guy is far away and out of touch, and she is heartbroken. She turns to her mentor, renowned journalist Henry Jaffa, who helps her land a job as the Friday intern for CRUSH magazine in San Francisco.
With a little luck, she could also be the mag's teen astrology columnist. All she has to do in order to prove herself to Stacy, her editor, is figure out the astrology chart for one of the celebs who will be attending the CRUSH launch party Halloween night. But when she studies the mystery person's chart, she sees disaster predicted for the weekend of the costume party. Who is the in-danger Gemini? Is it fashion designer Graciela Perez, the "Silver Dragon"? Is it her friend Chili's new guy, teen celebrity chef Alex Keen? Or is it, as Logan suspects, out-of-control singing star Arianna Woods?
As Logan turns to her book, Fearless Astrology for guidance, she sees something she's missed before. Big trouble is predicted that night for her sign as well.
Comments
45 comments posted.
Re: Gemini Night

This information is absolutely fascinating. Am always spell-bound listening to an author describing their method of writing. Just keep doing what you are doing and I will continue to read.
(Joanne Reynolds 7:31am November 27, 2010)
Sounds wonderful! Hope I am a winner!
Blessings,
Marjorie
(Marjorie Carmony 7:37am November 27, 2010)
I so admire people who can write since I have no talent at all for writing that I can't imagine killing anything that would help me write anything interesting at all.
(Sue Farrell 11:01am November 27, 2010)
Thanks for the great info. I never realized how hard an author has to work to write their book. All the research involved is really staggering. I applaud all of you for writing so many great books. I love mystery mixed with romance and I would love to win one of your books since I have not read any to date. Thanks for this opportunity to enter giveaway.
(Brenda Hill 11:14am November 27, 2010)
Thanks for your comments.
Bonnie
(Bonnie Hh 11:27am November 27, 2010)
Love to find a great new author. That is new to me I mean.
Keep 'em coming.
(Joni Shade 11:31am November 27, 2010)
I am looking for some good books to read for the holidays. I hope I am the
winner:-)
(Suzanne Reichard 11:35am November 27, 2010)
Thanks for the chance, I'd like to read this!
(Dovile Petrasiunaite 12:10pm November 27, 2010)
I would love to win a copy of either book. I enjoyed reading the information about who to kill first....I found it very interesting. Thank you.

terrymac1a at hotmail dot com
(Terry Mac 12:17pm November 27, 2010)
Great Info! I'd love to win either of your books as I'm looking for some good books to curl up with during the holidays. Thank you for this opportunity!
(Linda Townsend 12:25pm November 27, 2010)
This just highlights for me how difficult it is to be a writer.
(Maureen Emmons 12:39pm November 27, 2010)
How the mind of a writer works is amazing and I admire your talent and how creative you are.WOW
(Vickie Hightower 1:01pm November 27, 2010)
Have not had the pleasure of reading your books yet... thanks for sharing a very interesting post with us!
(Colleen Conklin 1:20pm November 27, 2010)
How interesting! I'll bet it's difficult to have to "kill your darling" after the hours you spent creating the story. I admire those who have the imagination and writing skills.
(Anna Speed 1:22pm November 27, 2010)
I think I have found new books to focus on winning!! I WILL win this series. I will. Somewhere, somehow, some way....lol!!
And thanks for the great info. It's going in my "someday you will write" folder!
(Michele Powell 1:23pm November 27, 2010)
my favs reading and astrology
(Debbi Shaw 2:50pm November 27, 2010)
Looking forward to reading your newest book, even if I don't win. Happy Holidays to one and all!
(Norma Storms 3:00pm November 27, 2010)
Sounds like an interesting series of books.
(Margay Roberge 3:04pm November 27, 2010)
I am a gemini and that books sounds great to me. What does she do to warn her client. Worse yet how does she know her danger signs.
I love hearing about your writing, most people would like to do what you do. But can't.
(Joe Bianchi 3:16pm November 27, 2010)
Your books sound really interesting, I am adding them to my must read list.
(Cheryl Lynne 4:04pm November 27, 2010)
Very helpful and informative! I would love to read Gemini Nights.
(Edwina Cowgill 4:07pm November 27, 2010)
Love your ideas about getting rid of a fave character. It gets me to thinking about my own mystery writings.
(Alyson Widen 4:36pm November 27, 2010)
Sounds like a great read!
(Leanna Morris 5:57pm November 27, 2010)
Very interesting column. Thanks!
(Robin Greene 6:06pm November 27, 2010)
Brilliant insight thank you.
(Mary Preston 6:18pm November 27, 2010)
Soundslike a good book to curl up with on a cold winter night.
(Ann Anderson 6:59 p.m. today
(Ann Anderson 6:59pm November 27, 2010)
Thanks, everyone. Michele, you must be a fire sign, ha ha. Maybe a knock-the-door-down Aries?

Joe, those are great questions. Logan doesn't know who the Gemini in danger is--only that he or she will be a celebrity at the magazine's launch party on Halloween. To make complicate her job even more, everyone at the party is in costume.
(Bonnie Hh 8:34pm November 27, 2010)
What an interesting post! It took me a while (I was also watching the news on TV) till I tumbled to what you meant by "killing." And I have another one: pet phrases, e.g., a clutch of minutes, which may have been used 200 years ago, but just annoy now since "Clutch" is used for a group of chickens, not time. For me "arguably" is another. After all, we can argue about anything and therefore the word has no real meaning. Words like possibly, maybe, perhaps, etc.--at least these are words that I would use--have a long history in language. Just because a word is new does not mean it is better.

It's true we all have our phrases in which we communicate. For writers it is perhaps more important to have a different voice for every book.
(Sigrun Schulz 9:30pm November 27, 2010)
Sounds like a fantastic novel. Thanks for the chance to win it!
(Kristen Harvey 9:37pm November 27, 2010)
Having started a fairy tale for my niece as a assignment for a german class a couple of years ago (~100 - 150 words; it's now up to 6 pages, single-spaced, with 1/2 inch margins, and still growing!), this column seems to be very timely for me. I need to go back and take my killer red pen to it. Then I need to finish it (complete with killer red pen marks), and translate it into the german it was originally supposed to be in.

Hmmm. It begins to sound like way too much work. Maybe I'll read your books instead!

Later,

Lynn
(Lynn Rettig 9:50pm November 27, 2010)
I would like to see how it ends
(Patricia Kasner 10:09pm November 27, 2010)
I am a Gemini so would love to read Gemini Nights. Thanks for the chance to win a copy.
(Teresa Ward 10:15pm November 27, 2010)
Being a Gemini, the book Gemini Night has my name written all over it!! lol I did enjoy reading your thought process, though. I have a few friends that thought I should write a book, but besides all of the best advice, backing from your friends, and your idea, of course, you need another very important thing -- guts!! I'd love to sit in on one of your classes, but my book is on a back burner for now.
(Peggy Roberson 10:45pm November 27, 2010)
Hi. I love astrology... I am an Aries and Gemini Night sounds good. I can't wait to check out your website!!!

-Brandy
(Brandy Blake 11:00pm November 27, 2010)
I sometimes have trouble with names when I right. For awhile it was because I didn't want to give a character a "real" name. Now, that's almost impossible. So, I try to give them names that seem to be relevant to the character and the setting and things like that.
(Penny Mettert 3:25am November 28, 2010)
Well, crud. That's what I get for now rereading before I post...names when I write...for heaven's sake!!! SHEESH!
(Penny Mettert 3:40am November 28, 2010)
I swear I didn't hit send on that...I WAS rereading it (and was trying to change now to not) when it left without me.
(Penny Mettert 3:41am November 28, 2010)
I admire and respect all the hard work, research and time that authors put into their writings......love, love to read those books, pls keep'em coming!
(Joanne Bozik 12:22pm November 28, 2010)
I think it's fascinating when authors come out and share some bits about the craft. I enjoyed this post. I've heard of this before...kill your darlings. I always thought it meant you had to kill somebody you really enjoyed writing in the story...hehe!!!

I know one author who set up his story, introduced some wonderful characters that the reader is sure they are going to be the heros and heroines....but then he started killing them off. It's a great OMG moment!! But it was ok, cause the continues to be fascinating with some more OMG moments....hehe!!!

Valerie
in Germany
(Valerie Bongards 12:43pm November 28, 2010)
Sounds interesting hope i win
(Mary Ann Milkowski 2:37pm November 28, 2010)
This sounds like a fabulous set of books! I want to win!!
(Brenda Rupp 8:32pm November 28, 2010)
As always, I am grateful to stumble upon good writing advice. And this was good advice. And purple prose. Oh yeah I am a repeat offender in my own writing. I have been acused of it many a time. I recently entered a writing challenge (which are great if you are looking to hone your writing skills) where we had to write a short scene containing only one adverb and one adjective. It's not as easy as it sounds. The trick is to beef up your nouns and verbs to achieve the message you are going for. I'm rather glad I entered the contest: I won, but beyond that, I learned some things.

I like romance, but I like romance with style. Which means I enjoy occasional "purple" prose. I also like fantasy and my favorite author is Patricia McKillip. Her lyrical style is beautiful. Just don't overdo it, I suppose.

Thanks for posting this useful article.

GA Lanham
author An Unlikely Place
www.scalesnailsanddragontales.com
(Georgia Lanham 9:13pm November 28, 2010)
lol i thought of murder and how i would do it for years LOL just cause all the tv shows says, its impossible to get away with it
(Tasha Tipton 5:35pm November 29, 2010)
A warning of things to come.This will be a great read I predict!!!
(Debra McDonald 10:35pm December 2, 2010)
Thank you! I received my book yesterday (Christmas Eve). I can't believe I won the contest and am looking so forward to reading the book!
Thanks again.
(Linda Townsend 1:52pm December 25, 2010)
Registered users may leave comments.
Log in or register now!