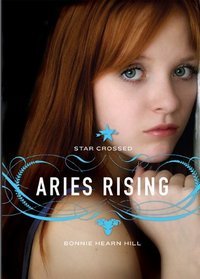 Purchase
Love is in the Stars!
Star Crossed #1
Running Press Kids
March 2010
On Sale: March 2, 2010
304 pages
ISBN: 0762436700
EAN: 9780762436705
Paperback
Add to Wish List

Aquarius Logan McRae is a high school sophomore in Terra Bella Beach, CA and has been working all semester to impress her teachers in order to get into the summer writing camp she desperately wants to attend. But when this ordinary girl finds an extraordinary book, Fearless Astrology, her life is changed forever. Applying what she's learned about the zodiac, she lands her own column in the school paper and a date with the hottest guy in school! But when Logan threatens to catch the members of a secret society called The Gears, who have been vandalizing school property by reading the stars, she quickly learns that she is in over her head. Will Logan be able to catch The Gears, save her love life, keep her newspaper column, and get into the writing camp of her dreams all through the use of astrology?
Comments
26 comments posted.
Re: Aries Rising

It sounds so hard to get a book published, but thankfully, you kept at it and did. Keep going!
(Joanne Reynolds 6:22am March 26, 2010)
Wow, just another example of why we need to network. Was it difficult to go from nonfiction to fiction? Did people assume you'd just go along with the same type of books? Do you prefer fiction or nonfiction?
(Jodi Webb 7:07am March 26, 2010)
Aries certainly sounds up-to-date on todays society.
Blessings,
Marjorie
(Marjorie Carmony 8:55am March 26, 2010)
Aries certainly sounds up-to-date on today's society.
Blessings,
Marjorie
(Marjorie Carmony 8:57am March 26, 2010)
Sounds like a nice read.
(Sherry Russell 11:05am March 26, 2010)
I'm Sagittarian, though don't feel I breeze through anything. I work hard at everything I do. I am keen on reading the book. Sounds very interesting.

Best wishes and Happy "early" Easter!
(Freda Mans-Labianca 12:45pm March 26, 2010)
I used to dream that I had married a true cowboy and was living out West where I'd work outside - writing. Then one day I woke up and told myself, "You can't write." I've always wished I could, but... So breaking into fiction and finding an agent aren't my biggest concerns - learning to write - well, one of these days! ;)
(Kelli Jo Calvert 12:57pm March 26, 2010)
Your theory on astrology and who would make the best writers was kind of interesting. May not agree but definitely interesting.
(Vicki Hancock 1:03pm March 26, 2010)
It's amazing how someone we look at as having an insider's eye had such a time getting published. Your advice was so honest and to the point and I enjoyed it.
Thanks
(Leni Kaye 1:52pm March 26, 2010)
Thanks for the informative posting. I am looking forward to reading your book.
(Robin McKay 2:31pm March 26, 2010)
I found your experience very interesting and hope for the best on the book, as well as all that follows.
(Cynthia Plaza-Harney 2:53pm March 26, 2010)
I'd love to read your book - please enter me in the contest. Thanks!
(Cheryl Snyder 3:28pm March 26, 2010)
Thank you for your insight into agents and how to deal with one. Very informative.
(Cherie Japp 3:41pm March 26, 2010)
Interesting post, thanks for sharing it with us!
(Colleen Conklin 4:25pm March 26, 2010)
Fascinating insight thank you. I love to know about the process.
(Mary Preston 5:51pm March 26, 2010)
Your blog was very informative. I never realized how hard you need to work to work to get a novel published. Good luck with your new release,'Aries Rising'.
(Rosemary Krejsa 6:34pm March 26, 2010)
It's good to get some insight as to how hard or easy it is to get published, great blog.
(Diane Sadler 8:01pm March 26, 2010)
Thanks, Diane. It is difficult but totally worth it.
Rosemary: I'm having fun writing for young adults.

Leni--Maybe it's different for writers today. Remember that when I started, there was no internet. That greatly limited my options, especially since I had a day job. I certainly don't want to discourage anyone.

Vicki--It was down and dirty. The location of your Mercury (not just your Sun sign) has a lot to do with that. My source and best friend is Hazel Dixon-Cooper who taught me the astrology my character (and I) learned in the book. She's a "real" astrologer and a fabulous writer. You might want to check out her Web site to learn more.

Kelli--That's most important. Perfecting the craft. I think there are more informed critique groups now than when I started, and a good group can help you get there sooner.

Sherry: All of my Sadge writer friends work hard, but they do it with "fire," and most of them laugh and smile a lot and are the kind of people you want to be around. That's different from Aries, who tends to just go after what s/he wants.

Jodi: Hi, Libra! It was difficult because I had to teach myself to write fiction. I already knew how to write nonfiction, so for me, fiction was more difficult. I love writing both, but right now, I'm having a wonderful time pretending to be 16 and writing these novels.

Thanks, everyone, for the great comments. You are all entered to win the free book. Check out the contest to win an iPod on the Star Crossed Facebook fan badge. You
are a great group.
(Bonnie Hh 8:54pm March 26, 2010)
P.S.
Here are the links to my Web site and Facebook fan page, where there are iPod contest details.
www.bonniehearnhill.com
facebook.com/StarCrossedseries
(Bonnie Hh 8:55pm March 26, 2010)
Thanks for the information on how to find an editor. I didn't know that book convention existed and that editors go to them.
(Kai Wong 11:01pm March 26, 2010)
I never gave writing much thought, but
my 2 daughters have both mentioned
that they'd like to be novelists when
they grow up. How'd I end up in this
situation? They love to read! Thanks
for the insights!!
(MaryAnne Banks 11:22pm March 26, 2010)
Congrats on realizing your dream! And
for being generous enough to share your
experience and advice to others with the
same dream.
(Jung Ja Ahn 11:25pm March 26, 2010)
I enjoyed the "inside look" at how to select and contact an agent. There is so much to getting started as a published writer. It is all interesting to learn about. Thanks for your facts.
(Gladys Paradowski 12:07pm March 27, 2010)
Congratualtions for breaking into Fiction. This was helpful information for anyone thinking about following their dream. Thank you
(Barbara Ryan 9:27am March 27, 2010)
Thanks for your great comments.

Good luck, Molly, with two writers in the family!

Kai: If you go to Shaw Guides, you can check out writing contests all over the country.
(Bonnie Hh 9:39pm March 27, 2010)
Thank you for the interview! I'm Scorpio and I agree when you say *tend to be emotional and can sabotage themselves*. It happened to me many times.
(Giada Mariani 9:05am March 28, 2010)
Registered users may leave comments.
Log in or register now!