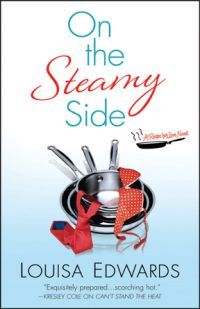 Purchase
St. Martin's Press
March 2010
On Sale: March 2, 2010
Featuring: Lilah Jane Tunkle; Devon Sparks
336 pages
ISBN: 0312356463
EAN: 9780312356460
Mass Market Paperback
$7.99
Add to Wish List

When Lilah Jane Tunkle fled her dull life in Virginia for the bright lights of New York City, she didn't expect to wind up a nanny to a gorgeous celebrity chef's ten-year- old son. Working for the delectable Devon Sparks is a sure- fire recipe for disaster, especially after Lilah gets a tantalizing taste of his perfectly seasoned kisses...
Devon's not sure he can handle one more surprise ingredient in his life—he quit his popular TV show, his culinary reputation is on the line, and now the son he barely knows is back for seconds. Lilah's Southern sass is supposed to keep the boy in line, but soon enough she's teaching Devon a thing or two about homespun food...and turning up the heat.
Comments
55 comments posted.
Love all of your books. Am going a a trip, so I'm picking this one up.
(Pat Wilson 11:35am March 22, 2010)
I would love to win this for my wife, it sounds like her type of story. I don't know too many romances but Jerry McGuire was a pretty good love story with a cool child.
(Willard Wheeler 12:29pm March 23, 2010)
In SENSE AND SENSIBILITY, the youngest daughter is pretty cool.
(Marlene Breakfield 1:45am March 23, 2010)
In Kerrelyn Sparks' Love at Stake series, several of the books have children in them. In at least one case the child of one of the characters from a previous relationship, ones born to the happy couples in later books, and even some orphans/outcasts taken in by a couple of the secondary characters.
Quite a few of the Harlequin and Silhouette romances I used to read a lot had children in them. In fact those were the ones I liked better, but that may be because I still had young ones in the house at the time.
Then there's Sandra Hill's The Very Virile Viking. Definitely kids in that one. Quite a few kids.
(Carol Cobun 3:49am March 23, 2010)
The Decadent Duke story involves his children as part of the plot. The story would not be as good without them.
(Sherry Russell 8:27am March 23, 2010)
Hi guys, and thanks for coming to chat with me! I've actually thought of several more examples since I wrote this post, so I'm interested to see if anyone else says them!

Willard - That was a great movie, and I'll always remember the little boy in it. So cute!

Marlene - Very true, although more true in the movie than the book, for me.

Carol - I haven't read Kerrelyn Sparks, but you're definitely making me want to try her!

Sherry - I love Virginia Henley!
(Louisa Edwards 8:55am March 23, 2010)
Hi Louisa!
Right now I remember Long Time Coming by Sandra Brown (read many years ago).
(Giada Mariani 9:34am March 23, 2010)
The first books that come to mind with kids as central characters are Stealing Home by Sherryl Woods and Table for Five by Susan Wiggs. CANNOT wait to read On the Steamy Side. Haven't had any luck finding it in our small town, but we're 'heading to the city' today, and I know I'll find it there. :)
(Kara Conrad 10:17am March 23, 2010)
I've come across two unforgettable child characters recently who are hilarious to me as a reader and terrifying to me as a parent:

- Rae Spellman, private investigator in training, from Lisa Lutz's 'The Spellman Files' series

- Flavia de Luce, chemist in training, from Alan Bradley's 'The Sweetness at the Bottom of the Pie'

I adore well-done child characters but like animal characters they can easily go 'wrong'!
(Maya Missani 10:20am March 23, 2010)
In one book of Julia Quinn's Bridgerton series, To Sir Phillip With Love, children play a key role. Good column; thanks for visiting.
(G S Moch 10:23am March 23, 2010)
Summer's Child by Luanne Rice.
(Kara Tulanko 10:32am March 23, 2010)
Giada - Good one!

Kara C- Yay! Fingers crossed that your search is successful, and that you enjoy OtSS!!

Maya - I agree, kids are dangerous. LOL--the ones you mentioned sound like lots of fun!

GS - Thank you for commenting!

Kara T - Oh, of course! Good one. : )
(Louisa Edwards 11:10am March 23, 2010)
In Suzanne Enoch's Sin series - Peep is the daughter of the duke and she is great. I also love Lisa Kleypas Hathaway series where you see the siblings grow up (and get books of their own)which I think is great.

I LOVED On the Steamy Side!!! I can't wait to read more in this series!! I also love Violet's story.
(Josie Roetemeyer 12:36pm March 23, 2010)
my favorite romance with a prominent child character? that hugh grant movie comes to mind. i don't remember the title but it has rachel weiss in it. hmmm, i don't remember any from a romance novel though...

i haven't read any of your books yet louisa but i've read great reviews and they're both on my wish list! thanks for the fun post today :)
(Michelle Santiago 12:41pm March 23, 2010)
I love that you add food and a chef to this book. I get hungry just reading about it.
Tahnk you.
(Barbara Ryan 12:53pm March 23, 2010)
Linda Lael Miller's McKettricks Of Texas:Tate had the six year old twin daughter and a four year old boy that were strong characters. Sandra Brown and Robyn Carr also have many books with great adolescent characters.
(Leni Kaye 1:07pm March 23, 2010)
Bones (Kathy Reichs) the book, has a daughter who is sometimes there and....
If you are going to have children in a book series the parents should at least think of them once in a book :>)
(Karin Tillotson 1:12pm March 23, 2010)
Catherine Coulter's THE HEIRESS BRIDE is one of my favs... I enjoy kids in books...
(Colleen Conklin 1:28pm March 23, 2010)
On The Steamy Side sounds like a good place to be!~
Blessings,
Marjorie
(Marjorie Carmony 1:50pm March 23, 2010)
Just finished "Can't Stand the Hear" in one sitting because I just could not put it down. Winning the"Steamy Side" would be just as wonderful and another reason to stay up really late!
(Elizabeth Parzino 1:50pm March 23, 2010)
Let's face it Harlequin has
oodles of series that have
babies or kids in them. For a
reason, they usually manage to
throw a kink or two in the
romance or are desperate to
replace a parent that is nonexistent. They usually
manage to add an additional
level of humor, all of which I
love. Kids are part of life so
of course you expect them to a
certain extent in romance,
which is what life's all
about,right?
(Lisa Richards 1:56pm March 23, 2010)
Josie - Thank you so much! That makes me really happy. And glad you're enjoying the free reads; they're fun to write.

Michelle - Oh, ABOUT A BOY! Actually based on the Nick Hornby book, so that totally counts. :) Happy to be on your wish list!

Barbara - All my Recipe for Love novels are foodie/chef based! You're welcome. ; )

Leni - Adolescents seem even harder--hats off to Brown and Carr!

Karin - LOL, one of the many pitfalls of children in novels!

Colleen - Coulter is great at writing kids. Her Bride books are all wonderful!

Marjorie - Thank you for commenting!

Elizabeth - YAY! You made my day! Good luck with the drawing, and keep an eye on my blog--I'm doing a giveaway at a different site almost every day this month. Lots of chances to win!

Lisa - I have noticed a lot of kids on Harlequin covers--and I definitely enjoy that sort of family-oriented story.
(Louisa Edwards 2:07pm March 23, 2010)
Oh wow my mind draws a blank on the name of a book with a child, but then again Audrea and the Maveric by Elaine Levine had several children in it! On of them was very special. I loved this book it was a great read! I have also read several Intrigue books with children! I guess I just don't think much about the children because they are a part of the life cycle!
(Gail Hurt 2:54pm March 23, 2010)
I loved reading about the March sisters in "Little Women" and "Little Men" by Louisa May Alcott. They were wonderful touching, romantic books.
(Robin McKay 3:07pm March 23, 2010)
Nicholas Spark's A Walk To Remember had kids back at high school. I can't wait to get my hands on this new book of yours and see what spunky business those characters are up to.
(Alyson Widen 3:57pm March 23, 2010)
The Time Traveler's Wife was a great romance with a prominent child character . . . for part of the story at least.
(Melissa Maringer 4:22pm March 23, 2010)
Yes, Little Women stands proud for me among all children in stories. I laughed with them & I cried. A beautiful & worthy classic.
(Mary Preston 4:53pm March 23, 2010)
I love all your books. Great read and offer a dash of this and that. Whip it together and simmer into a Fantastic Read. Thank you and keep them coming.
(Shirley Sego 5:01pm March 23, 2010)
I think my favorite was the Secret Garden. I read it over and over. Non-book child I like is the daughter in the tv series, "Castle." She's really good.
(Sherry Moran 5:14pm March 23, 2010)
A great number of category romances have featured children fairly well. Sara Orwig is one of the authors from category romance that come to mind in this situation.
(G. Bisbjerg 7:21pm March 23, 2010)
In a couple of JD Robb's In Death series there are stories that involve children; with some bad starts but good outcomes.
(Diane Sadler 7:44pm March 23, 2010)
I love the fact that 'On the Steamy Side' includes a child in the relationship. I think that it adds so much to the story. I am looking forward to a good read.
(Rosemary Krejsa 8:26pm March 23, 2010)
There a lots of adorable kids - Dex is a hoot from The Nerd Who Loved Me by VL Thompson.
(Pat Lieberman 8:50pm March 23, 2010)
Nixie Swisher in J.D. Robb's
'Survivor in Death'. A
relatively ordinary child in
extraordinary circumstances, she
lingers in my mind.
(Diana Troldahl 9:47pm March 23, 2010)
Please enter me in your fantastic contest from freshfiction.com
Thanks, Cecilia
(Cecilia Dunbar Hernandez 10:46pm March 23, 2010)
I've read 2 books recently with children...and I enjoyed both of them.

To Beguile A Beast
Audrey and the Maverick

I like children in the books...as long as the romance between the H/h remain the focus.
(Mitzi Hinkey 11:19pm March 23, 2010)
Most authors who feature do a pretty good job of it. However, sometimes a two-year-old talks and acts like a kid who's 5, or vice versa. That definitely annoys me more than the actual behavior. After all, kids do come with all kinds of weird behavior.
(Sigrun Schulz 11:45pm March 23, 2010)
A few cute kids who come to mind are Rosie in Catherine Anderson's Bright Eyes (one of the Coulter series), another Rosie and Robyn Carr's Angel's Peak and Nick, Zane and Barrie's daughter in Linda Howard's Mackenzie's series.

It was so much fun to meet you in Plano at Legacy Books. I'm mighty proud of the fifth of rose infused vodka I won. It turned out well. I'm planning to make a batch of Miranda Cocktails for my girlfriends soon!
(Jill Hayden 11:52pm March 23, 2010)
Steamy Side for me, thank-you.
(John Fry 12:13pm March 24, 2010)
I don't know that it's really a big romance but "A Tree Grows in Brooklyn" is one of my all time faves with a child as the prominent character. Love that book.
(Vicki Hancock 12:19pm March 24, 2010)
I relly love the book "Winter Baby" from the Four Seasons in Firefly Glen series written by Kathleen O'Brien.

The whole series was amazing, but the ones with kids involved always catch my heart.
(Donna Holmberg 1:44am March 24, 2010)
All I Want For Christmas by Nora Roberts has two adorable twin boys who want their cousin's Music teacher for their new mom as their Christmas wish. Zac and Zeke.
(In her book The Gift.)
johnslake at usa dot com
(Laurie Gommermann 5:22am March 24, 2010)
I can't remember the 2 children's names from Pink Moon by Stef Ann Holm, but I loved them - they were such good boys and good friends.
(Helen Livermore 9:15am March 24, 2010)
Hi Louisa. Your book sounds wonderful. Anna DeStefano's has had several SuperRomances where children played a prominent role.
(Crystal Broyles 9:46am March 24, 2010)
I agree that children don't have to be the downfall of a good book. If written in correctly, they can actually highten the plot line and reading experience.
(Norma Wills 9:46am March 24, 2010)
Gail - Interesting--maybe kids in romance are less of a hot button for readers than authors and editors think!

Robin - I love Louisa May Alcott!

Alyson - LOL, thank you! Good luck with the drawing. I can't wait to hear what you think of OtSS!

Melissa - Good one--I tend to forget the child in that one.

Mary - Total classic! One of the first books I remember wanting to read over the instant I finished it for the first time.

Shirley - Thank you so much! I'm writing as fast as I can. LOL

Sherry - I've heard a lot about the father-daughter relationship in Castle; it really makes me want to watch the show. That, and Nathan Fillion...

G. Bisberg - True! Thank you for commenting.

Diane - Oh, the kids in Robb always break my heart. In a good way!

Rosemary - Thanks! I hope it works for you. And hey, guess what the name of the heroine of my third book is? ; )

Pat - I love it when authors manage to make the kids funny!

Diana - Yes, Nixie! Very memorable character. *sob*

Cecilia - You got it! Thanks for commenting.

Mitzi - I just read To Beguile a Beast! I love Elizabeth Hoyt's writing, and those kids were amazingly real and fleshed out. Added so much to the story.

Sigrun - That's definitely one of the pitfalls, and it can be hard to tell when you're writing how it's going to come across. Scary!

Jill - I loved meeting you, too! So glad you won the vodka, since I think you probably got more fun out of it than anyone else would have! ; )

John - Thank you for commenting!

Vicki - What a classic!

Donna - Kids up the ante immediately, don't they?

Laurie - Oooh, I don't think I've read that one. Will have to look it up!

Helen - Sounds great! Boys are fun to write. : )

Crystal - Thank you!

Norma - I'm glad you agree. It was a very interesting challenge, and I'm proud of the way it turned out.
(Louisa Edwards 12:09pm March 24, 2010)
I've read books where having the children be a key part of the story works well, and other times...it doesn't.

I just got done reading Slow Heat by Jill Shalvis. The heroine in the novel kind of inherits her nephew and they have to learn and get to know each other in the middle of her romance with the hero. In this particular book I think the addition of the child into the story made it that much better.

I'll be eager to read your story. It sounds delicious!
(Carrie Divine 6:55pm March 24, 2010)
I think it's terrific adding kids to the plot. Makes it much more realistic!
(Michele Hunter 7:32pm March 24, 2010)
i loved the first book and I am looking forward to the second, third, fourth, fifth..... ;) you are a great writer....great story and love the characters!
(Amy Surprise 9:40pm March 24, 2010)
There is a lot of us out there as Moms and Aunties. It's good that children is consider in the books. Some days, historians will look back in our period of time to see how family interacts with children.
(Kai Wong 10:19pm March 24, 2010)
Kat Martin Has Children in some of her books, The Christmas Clock is a lovely story. also Brenda Joyce has children in some of her book's. The Masquerade is my favorite. There are others to but my mind has gone blank. so no i dont think children ruin the story i sort of love when children are involved.
(April Kirby 1:05am March 25, 2010)
oh yea theres another one which i love its To Beguile A Beast By Elizabeth Hoyt
(April Kirby 1:10am March 25, 2010)
The little boy in Virgin River by Robyn Carr - he was good with Preacher - Preacher considered himself scary looking and was afraid the boy would be scared of him. Their relatiionship was so touching.
(Rose Guardino 10:31am March 27, 2010)
I bought On the Steamy Side. I wish I had been forewarned that it was very R rated. A little too graphic on the sex for me. I like to have the author leave a little to the imagination! Also the first sex act that was described isn't even that pleasurable in my experience!
(Kathy Ellenberger 2:24pm April 21, 2011)
Actually it should have had a warning R for racy and raunchy!
(Kathy Ellenberger 2:26pm April 21, 2011)
Registered users may leave comments.
Log in or register now!