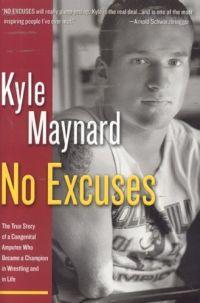 Purchase
Born without arms or legs below his elbows and knees, Kyle Maynard excels as a champion athlete, inspirational speaker, college student and male model.
Regnery Publishing, Inc.
September 2005
256 pages
ISBN: 0895260115
Hardcover
$25.95
Add to Wish List

Faced with impossible challenges Kyle Maynard lives life with No Excuses He was born a congenital amputee, his arms ending at his elbows and his legs at his knees. But that didn't stop Kyle Maynard from becoming a champion, on the wrestling mat and in his life.
NO EXCUSES is the inspiring story of Kyle's battle against the odds. You'll learn about the family who supported him, the coach who trained him, and the faith that strengthened him to face the toughest fights.
In addition to Kyle Maynard's amazing story, revealed in its entirety for the first time, you'll learn about:
· How Kyle's parents dealt with the shock of his birth · Why they allowed him "no excuses"—and how that benefited Kyle as he learned to eat, type, write, and live without hands · How Kyle earned his way onto the football team—as a hardnosed defensive lineman · How Kyle triumphed as a top state wrestler in Georgia · The core values that Kyle gained from his coach, his family, and the demands of competition · How Kyle's own incredible success met a new barrier: from the federal government, which blocked him from a future NCAA wrestling career. · How Kyle has changed people's minds and opinions on the value of life · The principles that have made Kyle a champion.
BONUS: · Kyle's very own diet and exercise regimen, which helped him compete at the highest levels · Thirteen ways to live a No Excuses life
NO EXCUSES is a book about a courageous young man who faced the seemingly impossible challenge to live a normal life— and won a phenomenal victory.

Media Buzz
Good Morning America - November 25, 2005
Larry King Live - October 3, 2005
20 / 20 - September 30, 2005
Oprah - September 29, 2005

Comments
No comments posted.

Registered users may leave comments.
Log in or register now!