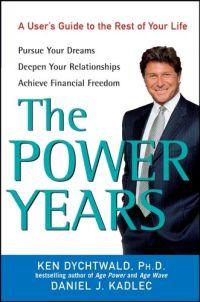 Purchase
The Power Years: A User's Guide to the Rest of Your Life
Ken Dychtwald, Daniel J. Kadlec
Pursue Your Dreams, Deepen Your Relationships, Achieve Financial Freedom
Wiley
August 2005
272 pages
ISBN: 047167494X
Hardcover
$24.95
Add to Wish List

Do you want to stop worrying about money and start having more fun? Do you wish you had more time to spend with family and friends? Do you want to live the life you always envisioned? Then it's time for your Power Years.
The Power Years is your step-by-step guide to repowerment and personal reinvention after forty. In this unique guidebook, world-renowned psychologist and leading authority on aging Ken Dychtwald and award-winning journalist Daniel J. Kadlec combine their decades of cutting-edge research and reporting to reveal how you can make the Power Years the best years of your life--by far. As we baby boomers move into the next stage of life, we now have the opportunity to experience a mold-shattering period of reinvention and personal growth, career liberation, nourishing relationships, and financial freedom. The Power Years helps us envision and embrace this new chapter of life as we develop a carefully thought-out plan for personal fulfillment.
Sharing the inspiring stories of fascinating people as well as plenty of prescriptive advice, the authors reveal how you can:
* Rediscover your life's purpose
* Find a new balance between satisfying work and enjoyable leisure
* Thrive in the home and location of your dreams
* Rekindle long-held passions and/or find new interests
* Rediscover and forge vital relationships
* Keep your financial life running smoothly
* Contribute to society and leave a lasting legacy
* Have fun again!
From staying connected with your kids, family, and friends to going back to school for the fun and challenge of it, from finding new companions to volunteering, from exploring a new career to traveling the world, The Power Years is your complete road map to living your best possible life--right now.

Media Buzz
Good Morning America - July 6, 2006
Motley Fool - February 24, 2006
Good Morning America - January 20, 2006
Good Morning America - September 19, 2005

Comments
No comments posted.

Registered users may leave comments.
Log in or register now!