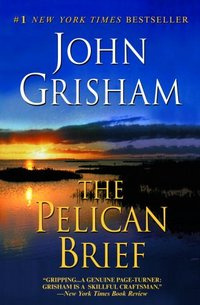 Purchase
Delta
May 2006
On Sale: April 25, 2006
Featuring: Darby Shaw
400 pages
ISBN: 0385339704
EAN: 9780385339704
Paperback (reprint)
$13.00
Add to Wish List

In suburban Georgetown a killer's Reeboks whisper on the front floor of a posh home...
In a seedy D.C. porno house a patron is swiftly garroted to death...
The next day America learns that two of its Supreme Court justices have been assassinated. And in New Orleans, a young law student prepares a legal brief...
To Darby Shaw it was no more than a legal shot in the dark, a brilliant guess. To the Washington establishment it was political dynamite. Suddenly Darby is witness to a murder -- a murder intended for her. Going underground, she finds there is only one person she can  trust -- an ambitious reporter after a news break hotter than Watergate -- to help her piece together the deadly puzzle.
Somewhere between the bayous of Louisiana and the White House's inner sanctums, a violent cover-up is being engineered. For somone has read Darby's brief. Someone who will stop at nothing to destroy the evidence of an unthinkable crime.
Comments
8 comments posted.
95% of the time I would agree about blind casting, and 100% about Denzel Washington being utterly superb, but occasionally it just won't fit. Would anyone have found him believable in Highlander? What about as the Russian commander in The Hunt for Red October? So, when it comes to casting movies from your books, we can go Greek, Roman, Hispanic without difficulty, but Denzel Washington as Arthur or Merlin or even Lancelot might be difficult to accept, mentally. Thanks for your incredibly well-crafted books.
(Susan Driskill 10:22am October 27, 2009)
I agree with Susan, most roles would not matter but some, not so good. We get use to a certain character or image, it's hard to watch it played differently. But if a person nails it, then we have a whole new image. But the persona needs to be the same, race or age does not matter so much then.
(Theresa Buckholtz 10:56am October 27, 2009)
I totally agree.
(Margay Roberge 10:58am October 27, 2009)
Susan, fair point about Highlander and I can see where the ethnicity of some characters is really important to maintain - particularly when the ethnicity is so associated with the character.

Theresa, I agree -- it really does need to be a strong persona. I remember being dramatically impressed by Michael Keaton as Batman - I could never have imagined Mr. Mom in that role previously, so I like it when producers and casting directors shake it up -- challenging us - particularly when the persona and acting is so well done.

And thank you for the wonderful compliment Susan!
(Heather Long 11:06am October 27, 2009)
I don't see color. I see strength through a character's eyes. I feel their heart through a writer's words. Color is only skin deep in my eyes. It's character that more important!
(Lisa Glidewell 2:51pm October 27, 2009)
I agree....but I'm an Outlander by Diana Gabaldon fan and I think Jamie must be played by a guy that fits his description in the book....and he has to speak with a Scottish accent or it will be all wrong!!!
(Mitzi Hinkey 9:34pm October 27, 2009)
I haven't had a problem with casting
actors of a different race when the
original character unless it was key to
the story. But I do find I have a little
problem when the actor is too old or
too young for a part. Not only is it
unbelievable, but I find it distracting
and takes me out of the storytelling.
(Sue Ahn 12:00pm October 28, 2009)
Unless there is a reason for a specific
ethnicity for a role, I think open
casting is a good practice. As long as
you get the essence of the character
from the performance it doesn't
matter so much what they look like. I
can think of some movies where they
cast a name actor for a part because
of his/her fame and they just didn't fit
the part. It changes the feel of the
story.
(Patricia Barraclough 12:03pm October 28, 2009)
Registered users may leave comments.
Log in or register now!