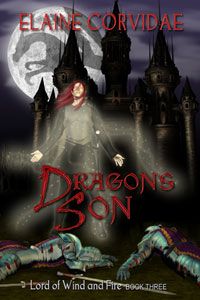 Purchase
As the war in the kingdom of Jenel--where magical beings such as Wolfkin must hide their true natures, and wizards orchestrate the rise and fall of empires--shape-shifter Yozerf battles on.
Lord of Wind and Fire, Book 3
MIRA
November 2004
236 pages
ISBN: 1594260613
Trade Size
$13.00
Add to Wish List

After their harrowing escape from Segg, Suchen, Auglar, and their companions find themselves lost in the midst of anonymous masses of refugees. Devoid of hope, they want only to return to Kellsjard and lick their wounds. But the journey is long, and the dangers many. Lost to his friends, Yozerf must also make his way back to Kellsjard, his only companion an eight-year-old human girl. But as conditions continue to deteriorate, he soon finds himself at the head of an army of refugees—men, women, and children, human, Aclyte, and Wolfkin. And as opposing armies converge on them, the fate of the kingdom itself may lie in his hands....
Comments
No comments posted.

Registered users may leave comments.
Log in or register now!