Ming Tsai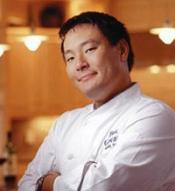 How many celebrity chefs can claim squash got them through Yale?
No, not the vegetable! While pursuing a degree in mechanical engineering, Ming Tsai became a prized member of Yale's All-American squash team. However, when summer break came, Ming's love of food kept him busy, traveling to France to study at the famous Le Cordon Bleu cooking school and other institutions. By the time he graduated, it was clear that cooking had won his heart.
Ming traveled the world studying different types of cuisine then earned a masters degree at Cornell University. After working at restaurants in Chicago, San Francisco, Santa Fe and Atlanta, Ming realized his dream when he and his wife Polly opened Blue Ginger in Wellesley, Massachusetts, in 1998.
Soon after it opened, Blue Ginger received the James Beard Award for Best New Restaurant and Esquire magazine named Ming "Chef of the Year." As his star rose, he won an "Outstanding Service Show Host" Emmy Award (in a category containing both Martha Stewart and Julia Child) for his first cooking show, and launched a best-selling cookbook, Blue Ginger. In 2002, Ming once again won the coveted James Beard Award-this time for Best Chef of the Northeast.
His latest project, SIMPLY MING, shares his foolproof system for creating delicious East-West food in a snap, and is his first foray into public television.
Series
Books:
Simply Ming In Your Kitchen, October 2012
Hardcover
Simply Ming One-Pot Meals, November 2010
Hardcover
Ming's Master Recipes, September 2005
Hardcover