Tara Janzen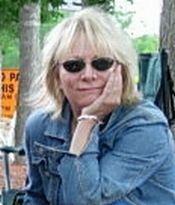 Blogging at Fresh Fiction
Tara Janzen | EIGHT GREAT THINGS ABOUT BEING A ROMANCE WRITER
August 13, 2009
I was going to blog about sex in cars. In my CRAZY and LOOSE books there is a lot of sex in cars. I remember Read More...
Tara Janzen | Book series and automotive infatuation.
November 1, 2007
One of the questions Iíve been getting asked a lot lately is if my new book, Read More...
Pseudonym for Glenna McReynolds.

Tara Janzen is the author of the award-winning CRAZY and LOOSE series of romantic suspense novels about Steele Street, a team of Special Ops forces. Her books have appeared on the New York Times and the USA Today bestseller lists.
Tara lives in Colorado with her family.
Series
Books:
Loose Ends, February 2011
Steele Street #5
Mass Market Paperback
Breaking Loose, August 2009
Mass Market Paperback
Loose and Easy, September 2008
Steele Street #9
Mass Market Paperback
Cutting Loose, January 2008
Steele Street #8
Paperback
On the Loose, November 2007
Steele Street #7
Paperback
Crazy Sweet, October 2006
Steele Street #6
Paperback
Crazy Love, July 2006
Steele Street #5
Paperback
Crazy Kisses, March 2006
Steele Street #4
Paperback
Crazy Wild, January 2006
Steele Street #3
Paperback
Crazy Cool, October 2005
Steele Street #2
Paperback
Crazy Hot, September 2005
Steele Street #1
Paperback