Calista Fox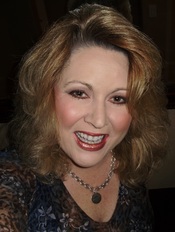 Blogging at Fresh Fiction
Calista Fox | Sex and the Action Hero/Heroine
July 9, 2009
I love writing suspense and sexy romance, so it's only natural that I combined my two passions in my July novel, Read More...
Calista Fox is the award-winning author of over 20 novellas and novels with publication dates scheduled into 2009. She began her professional fiction-writing career in 2004, following a successful career in PR, where she specialized in writing speeches and Congressional testimonies. Her books have received rave reviews and she is also the recipient of a Reviewer's Choice Award for Best Erotic Sci-Fi Novella.
Calista is a member of Romance Writer's of America® and two of its Phoenix Chapters, Desert Rose and Valley of the Sun Romance Writers. She has served on the Board of Directors, been the newsletter director and chaired the annual Golden Quill Contest, recognizing outstanding published authors, for the Desert Rose Chapter. She is also a member of Passionate Ink, RWA's erotic romance chapter. In addition, Calista gives presentations and workshops on writing novellas.
Calista attended college on a Journalism scholarship and has worked on newspapers as an editor and reporter. She holds degrees in General Studies and Communications. Calista lives in Arizona, but travels frequently to places like Mexico, Europe, San Diego, and Washington, DC. She has traveled the country by Lear Jet and has visited some of the best spas in the Southwest!
Series
Leave Your Shoes On | Burned Deep Trilogy | Lover's Triangle
Books:
The Billionaires, April 2017
Lover's Triangle
Trade Size
Burned Hearts, October 2016
Burned Deep
Trade Size
Flash Burned, April 2016
Burned Deep Trilogy #2
Paperback
When Staci Takes Charge, February 2016
e-Book
What Maxi Needs, December 2015
Leave Your Shoes On
e-Book
Burned Deep, October 2015
Burned Deep Trilogy #1
Paperback
What Lola Wants, September 2015
Leave Your Shoes On #1
e-Book
IOU Sex, August 2011
e-Book
Object of Desire, July 2009
Trade Size
Secret, December 2008
Bound By Passion Vol. 26
Paperback
Secrets, Volume 17, December 2006
Paperback
Secrets: Volume 13, July 2005
Trade Size