Kerrelyn Sparks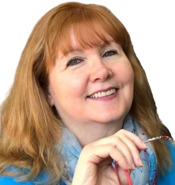 Photo Credit: Jennifer Berry/Studio 16

Blogging at Fresh Fiction
Kerrelyn Sparks | Where Would You Hide?
January 28, 2008
The Undead Next Door , which releases January 29th, tells the story of a Read More...
Kerrelyn Sparks' first paranormal romance, How to Marry a Millionaire Vampire, flew out of the bat cave in 2005 and survived three weeks on the USA Today Bestseller list. In 2006, Vamps and the City became the second book in the Love At Stake series. Kerrelyn lives in the Greater Houston area with her husband and brilliant children. At this time, there are no vampires in her family. Werewolves are another matter entirely.
Books:
The Vampire With the Dragon Tattoo, September 2013
Mass Market Paperback
Vampires Gone Wild, February 2013
e-Book
Wild About You, December 2012
Love at Stake #13
Paperback
The Forbidden Lady, October 2012
e-Book (reprint)
Wanted: Undead or Alive, April 2012
Love at Stake #12
Mass Market Paperback
Sexiest Vampire Alive, October 2011
Love at Stake #11
Paperback
A Very Vampy Christmas, September 2011
e-Book (reprint)
Vampire Mine, April 2011
Love at Stake # 10
Paperback
Eat Prey Love, October 2010
Love at Stake #9
Mass Market Paperback
The Vampire and the Virgin, March 2010
Love at Stake #8
Mass Market Paperback
Forbidden Nights with a Vampire, May 2009
Love at Stake #7
Mass Market Paperback
Secret Life Of A Vampire, April 2009
Love at Stake #6
Mass Market Paperback
All I Want for Christmas Is a Vampire, November 2008
Love at Stake #5
Mass Market Paperback
The Undead Next Door, February 2008
Love at Stake #4
Mass Market Paperback
Be Still My Vampire Heart, April 2007
Love at Stake #3
Paperback
Sugarplums and Scandal, October 2006
Paperback
Vamps and the City, April 2006
Love at Stake #2
Paperback
How to Marry a Millionaire Vampire, August 2005
Love at Stake #1
Paperback
For Love or Country, June 2002
Paperback