Charlene Sands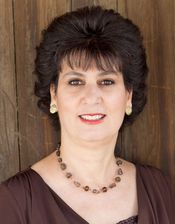 Blogging at Fresh Fiction
Charlene Sands | Top Ten Ways Babies Make a Book Better!
December 6, 2011
I love writing about babies.  Babies are my business, you could say.  I've been teaching Baby Care and Childbirth classes for a few decades Read More...
Charlene Sands | Everything but the Kitchen Sink.
August 6, 2008
Five-Star Cowboy launches my first mini-series with Silhouette Desire called Suite Secrets. It Read More...
Storytelling has always been a part of my life. As a young girl, I remember sitting with my father in the evenings asking him to tell me astory. His imagination and flare for the dramatic always entertained and had me coming back for more. I think he invented the interactive story because there was always a sheriff who needed my help in saving the day or a treasure hunt that spilled coins from my father's pocket. You can imagine how much fun it was for me to collect all those "treasures". Later on I began reading his written word; journals and romantic poetry that he'd penned for the family and those words inspired me to take the writing plunge.
I have always read romance. Grand adventures where the hero and heroine traversed rugged ground, beating insurmountable odds to finally find the path to true love. Books filled my life and my list of favorite authors kept growing. When I finally mustered the courage to face my computer head on and write, I felt an immediate kinship to those talented authors. I fell in love with writing from day one and hopeless romantic that I am, began writing love stories meant to warm the heart. . Count me in as one of those romantic authors who believe in happy endings!
Log In to see more information about Charlene Sands
Log in or register now!
Series
Books:
Redeeming the Texas Rancher, July 2017
Forever Texan #3
e-Book
Loving the Texas Lawman, May 2017
Forever Texan
e-Book
Taming the Texas Cowboy, March 2017
Forever Texan
e-Book
The Secret Heir of Sunset Ranch, November 2013
The Slade of Sunset Ranch
Paperback
Sunset Seduction, June 2013
Slades of Sunset Ranch
Hardcover
Sunset Surrender, January 2013
Mass Market Paperback
Worth The Risk, October 2012
Paperback
A Cowboy Worth Claiming, March 2012
Paperback
The Cowboy's Pride, December 2011
Paperback
Smooth-Talking The Hometown Girl, July 2011
e-Book
Carrying The Rancher's Heir, May 2011
Paperback
The Billionaire's Baby Arrangement, August 2010
Paperback
Seduction on the CEO's Terms, July 2010
Paperback
Million-Dollar Marriage Merger, May 2010
Paperback
Texan's Wedding-Night Wager, September 2009
Texas Cattlemen's Club
Mass Market Paperback
Reserved For The Tycoon, February 2009
Suite Secrets
Mass Market Paperback
Do Not Disturb Until Christmas, November 2008
Suite Secrets
Mass Market Paperback
Five-Star Cowboy, August 2008
Suite Secrets
Mass Market Paperback
Western Weddings, May 2008
Paperback
Taming The Texan, March 2008
Paperback
The Corporate Raider's Revenge, January 2008
Paperback
Bodine's Bounty, November 2007
Paperback
Between The CEO's Sheets, June 2007
Mass Market Paperback
Fortune's Vengeful Groom, March 2007
Miniseries: Dakota Fortunes
Paperback
Abducted at the Altar, September 2006
Paperback
Bunking Down with the Boss, August 2006
Paperback
Heiress Beware, June 2006
Miniseries: Dynasties: The Elliotts
Paperback
Renegade Wife, February 2006
Harlequin Historical Series, #789
Paperback
Like lightning, July 2005
Paperback