L.E. Sterling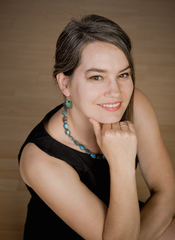 Blogging at Fresh Fiction
L.E. Sterling | A Spoiler-Free Guide to Dominion City
May 10, 2018
If you're thinking about packing your bags and heading to Dominion City (via the True Read More...
L. E. Sterling | Lovers in a Dangerous Time
March 29, 2017
Confession: I love antlers. I love claws and teeth. Growls that can be mistaken for either love growls or the kind that say, 'I'm Read More...
L.E. Sterling | 5 Reasons Why You Need a #SupernaturalBoyfriend This Spring
May 5, 2016
Spring is finally here which, according to some love pundits, means that along with sweet-smelling flowers, fresh, dewy love is just Read More...
Pseudonym: L.E. Vollick.

L.E. Sterling had an early obsession with sci-fi, fantasy and romance, to which she remained faithful through an M.A. in creative writing and a PhD in English literature, where she completed a thesis on magical representation.
She is the author of cult hit YA novel The Originals (under pen name L.E. Vollick) and the Urban Fantasy Pluto's Gate, and the True Born Trilogy. True Born, first in the series, won the 2017 Athena Award® from the Young Adult chapter of the RWA. Originally hailing from Parry Sound, Ontario, L.E. spent most of her summers roaming across Canada in a van, inspiring her writing career. She currently lives in Toronto, Canada.
Series
True Born Trilogy
Books:
True Storm, May 2018
True Born #3
Hardcover
True North, April 2017
True Born #2
Paperback
True Born, May 2016
True Born Trilogy # 1
Hardcover