Kianna Alexander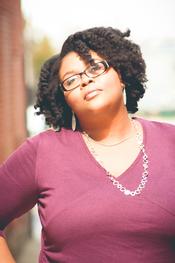 Iím Kianna Alexander. Iím a wife, mother, sister, friend, and avid reader. I also write like my life depended on it, because, in a way, it does.
Iíve been writing since I was a shy, introverted child of about ten. My stories provided an escape from a world that sometimes seemed harsh and uncaring. When I wasnít writing, I was reading- devouring R.L. Stineís Goosebumps and Fear Street Novels, Sweet Valley High Books, and the occasional Nancy Drew mystery. I was in high school before I discovered romance novels. I perused my motherís untouched collection of Harlequin novels, and read the occasional clench-covered tome in the library. But at sixteen, I picked up Beverly Jenkinís Night Song. That book changed my life, and I think thatís when the writing bug first bit me.
Stubborn as I am, I tried to deny my desire to write in favor of a more ďpracticalĒ pursuit. At seventeen, I wasnít confident enough to make my own choice, so I listened to the voices around me in deciding my career path. ďYouíre good with kids,Ē people said. ďYou should be a teacher.Ē Impressionable, shrinking violet that I was, I enrolled in college and majored in Elementary Education. In my junior year, they stuck me in a classroom with a bunch of second graders, and despite mastering all the pedagogical theory theyíd thrown at me, I bolted in fear when confronted with 25 boisterous students. I dropped out of college at yearís end.
The following September, I married my childhood sweetheart, and settled down in a military town with him. While he worked, I cooked, cleaned, did cross-stitch. The desire to write was there, but by then it was so faint I ignored it. I feared Iíd fail again, the way I failed at college- and my relatives were still asking me when I was going back. Then, a fateful thing occured- my husband had a health scare while training out of state, and I stayed with a cousin to be near him. During my four months at my cousinís home, I wrote my very first book- Skyeís the Limit. My cousin, the late Tonya Davis, threatened to deny me food if I didnít deliver a chapter a day- it was the push I needed to get back to writing. (I dedicated the book to her when it released in 2009, and she cried.)
Fast forward a few years, and I had my first child- a son, born with Down Syndrome. I saw in him so many possibilities, despite what the doctors said about what he might never accomplish. Every doctor and therapist known to man has seen my son, and I want it that way. As he grows, so do I, and Iím amazed at what he can do. In 2011, he suffered a bout with acute myelogenous leukemia, one that had us sitting in the hospital for seven agonizing, terrifying months of chemotherapy. My daughter, born in 2010, took her first steps in his hospital room. I wrote Embrace the Night as I sat by his bedside, to keep the worry from driving me to absolute madness.
At times of sorrow, or difficulty, I turn to writing. I pray, I think positive thoughts, but writing has been such a salve to me I donít know how to live without it. When all else in life seems out of my control, the worlds and characters I create still lie under my command. For me, that is a very comforting thing.
Itís my hope that the words Iíve written can create a much needed respite for readers like you.
Series
Millionaire Moguls
Books:
A San Diego Romance, April 2018
Millionaire Moguls #6
Mass Market Paperback
A Love Like This, December 2017
Sapphire Shores
Mass Market Paperback
Couldn't Ask For More, November 2017
Brothers of TDT #2
Mass Market Paperback
Back to Your Love, April 2017
Mass Market Paperback
Every Beat of My Heart, June 2016
Mass Market Paperback