Chikamso C. Efobi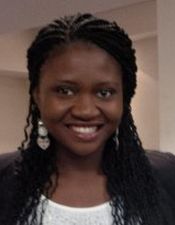 Chikamso C. Efobi was born into a family of four children and grew up in Lagos, Nigeria where she earned her Bachelorís degree in Systems Engineering from the University of Lagos. She then went on to earn a Masters degree in Information Systems Management from De Montfort University Leicester, United Kingdom where she graduated with Distinction.
Chikamso is an avid reader, writer and lover of nature. She published her first inspiring coming of age novel, Twisted in a Positive Way in the United Kingdom where she currently lives and works. She is also a self-professed food aficionado, green tea drinker and writes motivational and personal development posts on her blog Twisted in a Positive Way.
In her spare time, she coaches aspiring writers and enjoys having wholesome conversations with a diverse group of individuals as it is her belief that everyone has something to teach you if you are willing to listen and learn.
She is now working on completing her next novel, which is due to be released in July 2016
Series
Books:
Twisted in a Positive Way, September 2015
Paperback