A.L. Davroe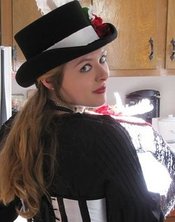 Blogging at Fresh Fiction
A.L. Davroe | On Finding Love Through Technology
March 23, 2017
In my Tricksters series, my main characters fall in love through interactions within Read More...
A.L. (Amanda) Davroe writes both YA and adult speculative fiction. She prefers revisionist tales in paranormal, romance, Steampunk, and fantasy. She is the author of Salvation Station (adult psych horror), The City Steam Collection (adult psych horror), For Your Heart (YA paranormal romance), M.I.A. (YA horror-thriller), Nexis (YA sci-fi) and her YA sci-fi novel, Redux, is coming out with Entangled Publishing March 21, 2017.
By day, Amanda lives in Connecticut with her two feline hench-creatures and makes cheese. She's a terrible blusher, has a weak spot for cuddly animals, loves Laffy Taffy and Cadbury MiniEggs, and she's a huge advocate of alternative healing methods. Amanda also wears purple shoes and corsets...Though not always in the same ensemble. She's a Capricorn, a Hufflepuff, a bit gothic, and a few nuggets short of a Happy Meal.
Series
A Tricksters Novel
Books:
Redux, April 2017
e-Book
Redux, March 2017
A Tricksters Novel #2
Paperback
Nexis, December 2015
A Tricksters Novel #1
Paperback