Bridget Blackwood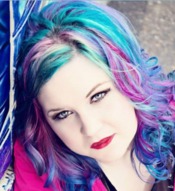 Blogging at Fresh Fiction
Bridget Blackwood | Top Fifteen Paranormal Romances for Halloween
October 28, 2015
To celebrate Halloween and the re-release of RISING SHADOWS, here are my Read More...
Join me at Readers & 'ritas 2019 on November 8, 2019
Weekend of fun with readers and authors at the Hilton Garden Inn, Allen, Texas
Click here to join me for a weekend of fun at READERS & 'RITAS, Nov. 9-11, 2018 in Allen, TX.
Author of the World in Shadows series.
I am a East Texas native living in Dallas with my husband and three children. A menagerie of animals have taken up residence with us.
A social butterfly by nature, I love to talk. When I am not writing, I enjoys video games, going out for dinner so I don't have to cook, and laughing as much as possible. I am a big horror movie junkie. I have an addiction to eye shadow, crazy hair colors, tattoos, and glitter.
The characters in my head are loud and bossy. I began writing down their stories in self defense.
Series
World in Shadows
Books:
Lost in Paradise, August 2016
World in Shadows #4
e-Book
Rising Shadows, November 2015
World in Shadows #1
e-Book
Belong to the Night, March 2015
World in Shadows #3
e-Book
A Scarlet Fury, September 2014
World in Shadows #2
e-Book
Winter's Kiss, April 2014
World in Shadows # 1.5
e-Book
Rising Shadows, February 2014
World in Shadows #1
Paperback