MK Meredith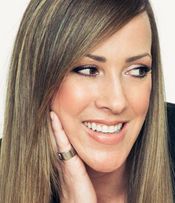 Blogging at Fresh Fiction
MK Meredith | Top 5 Reasons For A Seaside Romance
August 28, 2018
Hands down one of the most romantic places on earth is a rocky coastal shore or the never-ending line of a sandy beach with Read More...
MK Meredith | Beaches, Beauty, Barcelona…and Pick Pockets?
May 23, 2017
Though the threat of pickpockets is real, the beauty and sensuality and brilliance of Barcelona is a character all unto itself in this story. Because Read More...
MK Meredith | There's Nothing Sexier than that First Kiss…Unless You're Me
September 21, 2016
One of my very favorite parts of romances, whether from movies or a great book, is the build-up and realization of that first kiss Read More...
MK Meredith | Am I inappropriate, or is it just me?
December 5, 2015
I live for the moments when I say something shocking enough that my husband closes his eyes on a slow inhale and shakes his head Read More...
MK Meredith | The Day I Visited Nora Robert's Shoe Closet
July 29, 2015
Hey there! I am so excited to be celebrating my new release MK Meredith Read More...
MK Meredith writes single title contemporary romance promising an emotional ride on heated sheets. She believes the best route to success is to never stop learning. Her lifelong love affair with peanut butter continues, only two things come close in the battle for her affections: gorgeous heels and maybe Gerard Butler or was it David Gandy? Who is she kidding? Her true loves are her husband and two children who have survived her SEA's (spontaneous explosions of affection) and live to tell the tale. The Meredith's live in the D.C. area with their two large fur babies...until the next adventure calls.
Series
Malibu Sights | What Happens in Vegas | International Temptation | On the Cape
Books:
Draw You In, October 2018
On The Cape
e-Book
Cherish on the Cape, September 2018
On the Cape #3
e-Book
Honor on the Cape, April 2018
Cape Van Buren #2
Paperback
Love on the Cape, July 2017
On the Cape #1
Paperback
Playing the Spanish Billionaire, May 2017
International Temptation
e-Book
Seducing the Tycoon, September 2016
International Temptation
e-Book
Malibu Secrets, December 2015
Malibu Sights #2
e-Book
Seducing Seven, October 2015
What Happens in Vegas #9
e-Book
Malibu Betrayals, August 2015
e-Book