Melanie Jayne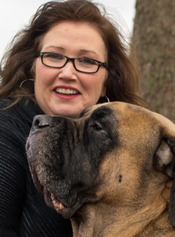 Blogging at Fresh Fiction
Who is Melanie Jayne?
September 11, 2017
Hi Everybody, I'm Melanie Jayne. I write contemporary romance featuring characters over the age of thirty-five and many of my female characters are Read More...
Melanie Jayne | I'm An Antique
October 4, 2016
I was just in a small town in Kentucky for a book signing and visited a few antique shops. I was shocked to find several Read More...
Melanie Jayne | Playlist for YOU ONLY
January 12, 2016
Happy 2016 to you all. I'm so happy to be here today and to talk about my newest book, Read More...
I live on a grain farm southeast of Indianapolis, Indiana with my very patient husband of twenty-five years and our two English Mastiffs, Buster Brown and Ginger. I graduated from Indiana University when it was the #1 party school in the country and I took great pride in helping the school achieve that ranking.
I haven't figured out what I want to be when I grow up. I change careers every decade. I have worked in retail, a federal courtroom, travelled across the state closing loans, and behind the scenes in a casino.
I've always had an active imagination so when a good friend suggested that I try writing a book, I thought why not, it should be fun. It has, but I have had to work very hard to learn how to do it. I am so lucky for the outpouring of advice and education from so many in the industry, plus the hand-holding and cheerleading from My Gurls. I also have an incredible Ad-man-istrative Assistant, who tries to keep me under control. He rolls his eyes so much that I worry about a permanent condition.
When I 'm not working or writing type stuff, I sleep, watch courtroom TV shows, and sports. I was a competitive pro-am ballroom dancer for ten years and I read as many books as I can.
I love to attend Author-Reader Conventions and look forward to meeting you.
Series
Cameron Farms | A Change
Books:
A Change in Perception, September 2017
Change Series #4
e-Book
Best, May 2017
A Change #3
e-Book
Better, October 2016
A Change #2
e-Book
A Change for the Good, July 2016
A Change #1
e-Book
Only You, January 2016
Cameron Farms #1
e-Book
The Party Plan, March 2015
e-Book