Stefanie London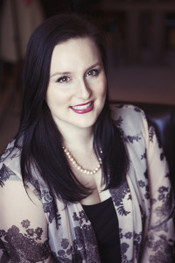 Blogging at Fresh Fiction
Stefanie London | Fact or Fiction?
May 2, 2017
I love sprinkling little bits of the "real world" into my books, whether it's a real place or landmark, a real story or a Read More...
Stefanie London | What's Under the Tree?
November 15, 2016
Hi Fresh Fiction readers! If we haven't met before, I'm Stefanie London. Lovely to meet you! As I'm writing this Read More...
Stefanie London | No More Boring Dates
January 21, 2015
While writing my latest release, THE RULES ACCORDING TO GRACIE, I was looking Read More...
USA Today bestselling author of over ten contemporary romances with humour, heat and heart.
Originally from Melbourne, Australia Stefanie now lives in Toronto, Canada with her wonderful husband. She's doing her best to travel the world. In her spare time, Stefanie loves to read, collect lipsticks, watch zombie movies and drink coffee.
Her bestselling book, Pretend It's Love, is a 2016 Romantic Book of the Year finalist with the Romance Writers of Australia.
Series
Behind the Bar | What Happens in Vegas | Dangerous Bachelors Club | The Dangerous Bachelors Club | Melbourne Ballerinas | Scandalous Wentworths | Bad Bachelors
Books:
Unmasked, April 2018
Melbourne After Dark
e-Book
Bad Bachelor, March 2018
Bad Bachelors
Paperback
Trouble Next Door, November 2017
e-Book
Betting the Bad Boy, May 2017
Behind the Bar #3
e-Book
Taken by the CEO, March 2017
Scandalous Wentworths #1
e-Book
Mr. Dangerously Sexy, February 2017
Dangerous Bachelors Club #4
Paperback
Millionaire Under the Mistletoe, November 2016
e-Book
A Dangerously Sexy Secret, October 2016
The Dangerous Bachelors Club #3
Mass Market Paperback
A Dangerously Sexy Affair, April 2016
The Dangerous Bachelors Club #2
Paperback
Loving the Odds, March 2016
What Happens in Vegas #14
Paperback
A Dangerously Sexy Christmas, December 2015
The Dangerous Bachelors Club #1
Mass Market Paperback
Pretend It's Love, October 2015
Behind the Bar
e-Book
Small Town Summer, July 2015
e-Book
The Tycoon's Stowaway, March 2015
Mass Market Paperback
The Rules According to Gracie, January 2015
Behind the Bar #1
e-Book
Breaking the Bro Code, October 2014
Melbourne Ballerinas #2
Mass Market Paperback
Only The Brave Try Ballet, July 2014
Melbourne Ballerinas #1
Mass Market Paperback