Rhenna Morgan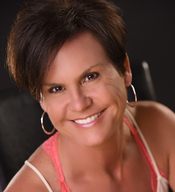 Blogging at Fresh Fiction
Rhenna Morgan | Exclusive Excerpt: Healer's Need
October 25, 2018
Elise twisted just in time to catch a muscle at the back of Tatefs jaw twitch. The Read More...
Rhenna Morgan | What Do You Dream?
July 26, 2016
The vast majority of my plotting is done either driving to and from work, or in the shower. Seriously, if I could get a water Read More...
Rhenna Morgan | A Tasty Teaser for UNEXPECTED EDEN
January 7, 2015
Happy New Year, Fresh Fiction folks! Thank you so much for inviting me to join you today and for helping me celebrate the release of Read More...
Rhenna Morgan writes for the same reason she reads—to escape reality.
A native Oklahoman with two beautiful girls and a fantastic husband, her resume reflects her passion for new experiences. Since graduating with a Bachelors in Radio, Television, and Film at Oklahoma State, she's racked up positions ranging from on-air radio talent, skip tracer, and promotions director, to real estate agent, project manager, and business analyst.
Like most women, she's got obligations stacked tight from dusk to dawn. That's where the romance comes in. Reading, or writing, romance has been her happy place since she cracked the spine on her first Christine Feehan book years ago. Nothing thrills her more than the fantasy of new, exciting worlds, and strong, intuitive men who'll fight to keep the women they want.
Whether it's contemporary, paranormal, or fantasy you're after, Rhenna's stories pack romantic escape for the women who need it.
Series
The Eden Series
Books:
Healer's Need, October 2018
Ancient Ink Book 2
e-Book
Rough & Tumble, February 2017
Haven Brotherhood
e-Book
Eden's Deliverance, October 2016
Eden series #4
e-Book
Waking Eden, August 2016
Eden #3
e-Book
What Janie Wants, June 2016
Paperback
Healing Eden, December 2015
Eden #2
Paperback
Unexpected Eden, January 2015
The Eden Series #1
Paperback