Lauren Smith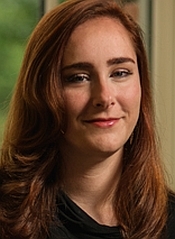 Blogging at Fresh Fiction
Lauren Smith | A Vampire's Christmas List
November 26, 2015
It's not often that as the holidays drawn near and we start decorating the tree and making turkey that we're thinking about vampires Read More...
Lauren Smith | Cowboy Meets City Girl: Reverse Stereotypes in Romance
June 27, 2015
Since I'm born and bred in Oklahoma, Cowboys are a bit of a natural occurrence in my neck of the woods. Wranglers that hug Read More...
Lauren Smith | Endless Night- A Foray into the Dark and Mysterious
October 2, 2014
Halloween. My favorite holiday. If I had my say, my house would be decorated with black and orange 365 days a year. It seems like Read More...
Lauren Smith is an attorney by day, author by night, who pens adventurous and edgy romance stories by the light of her smart phone flashlight app. She's a native Oklahoman who lives with her three pets: a feisty chinchilla, sophisticated cat and dapper little schnauzer. She's won multiple awards in several romance subgenres including being an Amazon.com Breakthrough Novel Award Quarter-Finalist and a Semi-Finalist for the Mary Wollstonecraft Shelley Award.
Series
League of Rogues | Dark Seductions | Surrender Trilogy | Surrender series | Love Bites | Her British Stepbrother | Sins and Scandals
Books:
A Scottish Lord for Christmas, December 2017
Sins and Scandals #3
e-Book
A Gentleman Never Surrenders, September 2017
Sins and Scandals #2
e-Book
An Earl by Any Other Name, August 2017
Sins and Scandals
e-Book
Climax, May 2016
Her British Stepbrother #3
e-Book
Seduction, March 2016
Her British Stepbrother #2
e-Book
Once Upon a True Love's Kiss, January 2016
e-Book
Forbidden, January 2016
Her British Stepbrother #1
e-Book
Her Wicked Proposal, January 2016
League of Rogues #3
e-Book
The Bite of Winter, December 2015
Love Bites #1
e-Book
The Gilded Chain, November 2015
Surrender #3
e-Book
The Gilded Cage, June 2015
Surrender #2
e-Book
The Gilded Cuff, February 2015
Surrender #1
Paperback
Captivated by His Kiss, January 2015
e-Book
His Wicked Seduction, November 2014
League of Rogues
e-Book
The Shadows of Stormclyffe Hall, October 2014
Dark Seductions, Book 1
e-Book
The Shadows of Stormclyffe Hall, October 2014
e-Book
Wicked Designs, January 2014
The League of Rogues Book 1
e-Book
Blood Moon on the Rise, June 2013
e-Book

Videos
Click Title to Play
Wicked Designs