Janet Elizabeth Henderson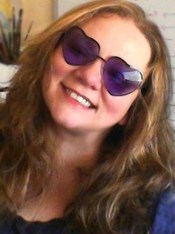 Blogging at Fresh Fiction
Janet Elizabeth Henderson | "It's a Die Hard starring Han Solo and Princess Leia. . . kind of. . ."
October 24, 2019
"Imagine what would happen if you took Die Hard and swapped out John McClane for Han Solo and Princess Leia?&rdquo Read More...
Janet Elizabeth Henderson | RED ZONE
May 3, 2019
Do you remember the TV show Buck Rogers in the 25th Century? For a while, it was my favorite show Read More...
Janet Elizabeth Henderson is a Scot living in New Zealand and married to a Dutch man – it can get a little confusing in her house! She has two little girls and a menagerie of animals that keep her busy during the daylight hours. At night, when everyone is asleep, Janet writes contemporary romance. Her main aim is to make herself laugh so loudly that she wakes her husband - it's payback for his snoring! Janet trained as a fine artist, has worked all over the world and – like some of her characters – has been fired from too many jobs to count. Janet's main hobbies are reading, painting and talking – and not always in that order.
5 random things about me:
1. I accidentally mooned a crowd at a Bolivian wedding.
2. I've been chased by a gang of baboons. And I mean gang. They were organised and vicious. All that was missing was their leather jackets and tattoos!
3. I wrote my first novel when I was 22. It was a cross between Star Wars, Monsters Inc. and Tinkerbelle. Funnily enough, no one wanted to publish it. Odd that...
4. I was a portrait artist on the streets of Amsterdam for a time.
5. I worked night shift as a security guard at Stirling Castle in Scotland while I was in college. The castle was on a terrorist hit-list back then. To defend it they gave me a flashlight, a two-way radio that only worked one-way and made me wear a polyester A-line skirt...
Log In to see more information about Janet Elizabeth Henderson
Log in or register now!
Series
Books:
Red Awakening, October 2019
Red Zone #2
e-Book
Red Zone, April 2019
e-Book
Lingerie Wars, June 2013
Invertary Books #1
Trade Size