Michael D. Smith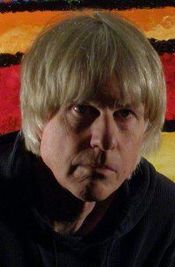 Michael D. Smith was raised in the Northeast and the Chicago area, then moved to Texas to attend Rice University, where he began developing as a writer and visual artist. In addition to exhibiting and selling paintings and drawings, he has completed fifteen novels. He placed a novella, The First Twenty Steps, on Smashwords, Barnes and Noble's Nook Press site, and amazon.com's Kindle Direct Publishing in order to offer some sample work and to experiment with e–publishing processes. His science fiction novel The Martian Marauders was published by Double Dragon Publishing in January 2012, with Book Two, Jack Commer, Supreme Commander, following in August 2012, and Book Three, Nonprofit Chronowar, in May 2013. Book Four, Collapse and Delusion, is also scheduled to be published by Double Dragon.
Smith's writing in both literary and science fiction genres uses humor to investigate psychological and spiritual themes. He strives for high energy, intense character interaction, and strong emotion. His web site, www.sortmind.com, is named for his 2009 novel Sortmind, which chronicles the Telepathic Database, urban architectural wars, and two sets of aliens with opposing ideas about dealing with the human race. In his blog, blog.sortmind.com, Smith explores art and writing processes. Both his web sites contain further examples of his writing and visual art.
Smith is currently the Technology Librarian for McKinney Public Library in McKinney, Texas. In his career as a librarian he's done extensive programming for adults, including book talks and author presentations, and has also marketed libraries through presentations and contacts with local media. His work includes eBook and audiobook acquisitions and classes on using e–readers.
Log In to see more information about Michael D. Smith
Log in or register now!
Series
Books:
Nonprofit Chronowar, May 2013
Jack Commer, Supreme Commander #3
Paperback
The First Twenty Steps, March 2013
e-Book
Jack Commer, Supreme Commander, August 2012
Jack Commer, Supreme Commander #2
Paperback
The Martian Marauders, January 2012
Jack Commer, Supreme Commander #1
Paperback