David Bell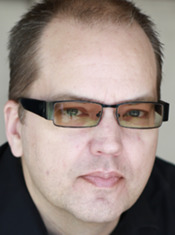 David Bell was born in Cincinnati, Ohio. More specifically, he was born and raised on the west side of Cincinnati, which matters—a lot—to people from Cincinnati. The sound of Marty Brennaman and Joe Nuxhall broadcasting Reds' baseball games provided the soundtrack to his childhood.
David attended St. Catharine of Siena grade school and spent countless hours at the Westwood Public Library developing his love of reading. As a child, one of his favorite books was KING ARTHUR AND HIS KNIGHTS by Mabel Louise Robinson. David read this book over and over and was disappointed when he grew up and found out the stories in the book weren't true.
David then attended high school at St. Xavier in Cincinnati. He took his first creative writing class at St. Xavier and wrote his first short stories. Unfortunately—or fortunately, depending on how one looks at it—those stories, written before the age of computers, are lost forever.
David attended college at Indiana University in Bloomington, Indiana. Not only is it one of the most beautiful campuses in the country—and at the time was home to one of the best basketball teams in the country—it was a great place for someone interested in books and writing to study. David majored in English and took as many classes in his major as he could, studying everything from Homer to Saul Bellow and Grace Paley. He only took one creative writing course—and again those stories are lost to the ages—but he did decide, absent any other job options, that it might just make sense to try to pursue a career as a fiction writer.
Do you really want to know about David's twenties? Does anyone?
David worked a series of odd jobs—waiter, bartender, book store clerk, telemarketer—in a series of odd places—Shreveport, Louisiana; Savannah, Georgia; Washington D.C. After five years of that, he decided he had had enough of the real world and went to graduate school for creative writing. First for an M.A. at Miami University in Oxford, Ohio, and then for a Ph.D. at the University of Cincinnati. During graduate school, David wrote a few novels, which still survive on his hard drive but have not been published, and sold some short stories to journals large and small—Western Humanities Review, Backwards City Review, The Edge: Tales of Suspense. Some of these journals still exist even after publishing David's work.
After completing his Ph.D., David returned to teach at Miami University as a visiting professor of creative writing for one year before accepting a tenure-track job at St. Andrews Presbyterian College in Laurinburg, North Carolina. After two years in the Tar Heel state, David moved to Bowling Green, Kentucky where he accepted a tenure-track job at Western Kentucky University. While at WKU, David sold his novel CEMETERY GIRL to NAL/Penguin. When he is not teaching or writing, David watches lots and lots of movies and reads lots and lots of books. He also enjoys walking in the cemetery near his house with his wife, writer and blogger Molly McCaffrey.
Series
Books:
Layover, July 2019
Trade Size
Layover, July 2019
Hardcover
Somebody I Used to Know, January 2019
Mass Market Paperback (reprint)
Somebody's Daughter, July 2018
Trade Size
Cemetery Girl, February 2018
Mass Market Paperback
Since She Went Away, July 2016
Trade Size
Somebody I Used to Know, July 2015
Paperback
Never Come Back, October 2013
Paperback
The Hiding Place, October 2012
Paperback
Cemetery Girl, October 2011
Paperback