Coleen Kwan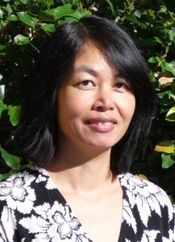 Blogging at Fresh Fiction
Coleen Kwan | Goal, Motivation, and Conflict in KISSING HER ENEMY
March 1, 2017
One of the first things an author learns when creating her characters is the concept of GMC, or Goal, Motivation, and Conflict. Goal is simply Read More...
Coleen Kwan | Ending the year with a new book
December 11, 2015
Itís an overcast day here in Sydney, a welcome relief after a few days of blazing temperatures. El Nino has gripped the southern hemisphere Read More...
Coleen Kwan | Sappy Books
February 10, 2015
A couple of weeks ago I was talking about books with my eighteen-year-old daughter, and I mentioned how much Iíd enjoyed a Read More...
Coleen Kwan | Real Men and Women
January 23, 2013
The characters in my books can be inspired by many sources: movies, television, songs, books, or simply people walking by on the street. I live Read More...
Coleen Kwan has been a bookworm all her life. At school English was her favorite subject, but for some reason she decided on a career in IT. After many years of programming, she wondered what else there was in life ó and discovered writing. She loves writing contemporary romance and steampunk romance.
Coleen lives in Sydney, Australia with her partner and two children. When she isnít writing she enjoys avoiding housework, eating chocolate, and watching TV shows like Criminal Minds and Masterchef.
Series
The Rochesters | Pine Falls
Books:
Kissing Her Enemy, March 2017
Pine Falls
e-Book
Best Friends with the Billionaire, April 2016
The Rochesters #2
e-Book
Unexpectedly Yours, March 2016
Pine Falls
e-Book
Love, Dogs And Other Catastrophes, December 2015
e-Book
Courting the Cop, October 2015
e-Book
One Real Man, February 2015
e-Book
Undercover in the CEO's Bed, May 2014
The Rochesters #1
e-Book
Stranded with a Hero, November 2013
e-Book
Darke London, September 2013
Hardcover
Real Men Don't Quit, April 2013
Real Men #2
e-Book
Real Men Don't Quit, April 2013
Hardcover
Asher's Dilemma, January 2013
e-Book
Short Soup, December 2012
e-Book
Real Men Don\'t Break Hearts, December 2012
Real Men #1
e-Book
Asher's Invention, July 2012
e-Book
When Harriet Came Home, November 2011
e-Book