Janet Bolin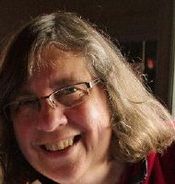 Blogging at Fresh Fiction
Janet Bolin | Which Came First?
May 11, 2015
Sometimes, my life parallels the lives of the characters in my books in mysterious ways. In the fifth Threadville Mystery, Read More...
Janet Bolin | Being A Kid On Halloween
October 23, 2011
When I was in second grade, my mother asked us, "What do you want to be for Halloween?" I looked down at the plate of Read More...
I have lots of hobbies. I love reading, writing, sewing, knitting, crocheting, and going on long walks with my dogs. I believe I want to make quilts. Sometimes I try to teach myself (not very successfully) how to play the piano.
A few years ago, I discovered embroidering using software and high-tech sewing machines. I'm not certain that everything I own simply must be embroidered, but creating the designs is really, really fun. And they'd go so well on crazy quilts...
I live way out in the country, a long drive from stores that sell supplies for people who like to create and embellish their own textiles and garments.
Sooooo....I created Threadville, a village where everything I might want for my projects is on one short street, and I created Willow Vanderling, who is thrilled to own a store selling the high-tech embroidery stuff that I wish I could find just down the block.
From time to time, Willow and her Threadville friends may need to take time out from their creative work to solve a murder or two. I hope you'll join them...
Series
Books:
Seven Threadly Sins, May 2015
Threadville Mysteries #5
Mass Market Paperback
Night Of The Living Thread, June 2014
Paperback
Thread and Buried, June 2013
Threadville Mystery #3
Mass Market Paperback
Threaded for Trouble, June 2012
Threadville Mystery #2
Mass Market Paperback
Dire Threads, June 2011
A Threadville Mystery #1
Paperback