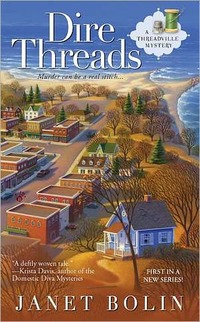 Purchase
Willow Vanderling's quaint new embroidery shop is not a hit with the local zoning commissioner. When he's murdered, the evidence is stacked against Willow.
A Threadville Mystery #1
Berkley
June 2011
On Sale: June 7, 2011
Featuring: Willow Vanderling
336 pages
ISBN: 0425241890
EAN: 9780425241899
Paperback
Add to Wish List

Mystery Hobbies | Mystery Amateur Sleuth | Mystery Cozy
Threadville, Pennsylvania has everything - a fabric store, yarn shop, notions store, quilting boutique, and Willow Vanderling's brand new shop, In Stitches, a hit with tourists eager to learn embroidering in the latest way, with software and machines.
But when the village's bullying zoning commisssioner picks a fight with Willow and turns up dead in Willow's yard, the close-knit community starts unraveling at the seams.
Willow must stitch together clues and find the real murderer, or the next thing she embroiders may be an orange prison jumpsuit . . .
Comments
32 comments posted.
Re: Dire Threads

My mom was also wonderful at halloween. And easter too. Not for costumes
of course. But with 3 girls and two boys, the easter clothes were pricey. Back
then, it was cheaper to sew than buy. Us girls still remember our favorites. We
all three matched. A red/golden patterned dress. Then we each had a lovely
cape, reversible. Red/golden pattern one side, plain golden on another. So
beautiful. But she was fabulous about halloween. Never ever store bought! She
too had a room full of sewing things! hehe
(Lisa Hutson 12:37pm October 23, 2011)
Thanks for bringing it up, by the way. What lovely memories! :-)
(Lisa Hutson 12:37pm October 23, 2011)
My Mother is a very creative woman. She taught us all the arts of sewing, knitting, crochet & embroidery.
(Mary Preston 3:05am October 23, 2011)
I remember my mother sewing. I however, just loved the idea, and at age 8 taught myself to macrame, then came knitting, crocheting, emboidery, sewing, painting and wordworking.
(Debbie Penny 5:56am October 23, 2011)
My Mother, my best friend ever, encouraged me to be myself, whether it was sewing, woodworking, leaded glass,-- what ever expressed my thoughts and talents. What a remembrance.
Blessings,
Marjorie
(Marjorie Carmony 6:53am October 23, 2011)
I had an Italian aunt who could do anything. She taught me to sew by
making Barbie doll clothes.
(Lisa Garrett 7:44am October 23, 2011)
My next door neighbor fostered my creativity, she taught me to crochet, arrange flowers, and decorate cakes. What a wonderful experience
(Timothy Younger 8:06am October 23, 2011)
My mom fostered my creativity by encouraging me to read and encouraging me in other areas like music. But I was never creative in the costume department.
(Pam Howell 8:36am October 23, 2011)
It was my Mom for me too. She loved to draw and paint which inspired me too. I have shown my sons my old sketch pads and they have become good artists too! Since none of the boys look like me it's nice that they have some of my talents that I can claim!
(Renee Pajda 8:38am October 23, 2011)
My Mom always encouraged my Sister & I to be creative with our free time. Whether it was arts & crafts at home or an after school activity, such as a needlepoint class. When we vacation together we still bring out our needlepoint projects & sit around chatting & sharing stories. It's a great way for us to stay close.
(Emily Hagman 10:50am October 23, 2011)
My mom tried to inspire me to be creative--but it just didn't work, I'm a "Just the facts, Mam" type of person. I guess that's why I became an accountant.
(Sue Farrell 11:06am October 23, 2011)
I guess my mom helped in the department of creativity, but I think I also helped myself along the way. I tried to hang out with people who had different views than I did and kept an open mind while trying to understand them. I read books I wouldn't usually choose, occasionally watched movies from different genres, and just looked for opportunities to be curious and surprised. I think you can be more creative by being more engaged with the world around you. Step out of what is familiar to you. If you surround yourself with out-of-the box- thinking people and diverse settings, your own ideas are likely to become more interesting.
(Diane Brixius 11:13am October 23, 2011)
My mom is the one who encouraged and helped me develop the creative skills that I have. She was the one who listened to me read while I was young and taught me how to sew, crochet and do embroidery. She was very patient, a wonderful mother.
(Anna Speed 11:58am October 23, 2011)
My creativity was fostered when I was in Junior High School. We had a Sewing class/Homeroom teacher that also taught us how to crochet. I always wanted to crochet, and was fortunate enough to have a teacher who knew how to teach someone like me, who was left-handed. I also had a French teacher who knitted her own clothes, and that got me a bug to want to learn how to knit as well, so I started to bother my sister to teach me. I've been doing it ever since, although I did have to take a hiatus after suffering an injury to my hand and arm, and lost the use of it for a few years. I still don't have full use of my hand and arm, but I'm doing the best I can. As for your book, I love the cover, and would love to read it.
(Peggy Roberson 12:37pm October 23, 2011)
My mother-in-law fostered my love of cooking by generously sharing recipes and cooking tips. She had lived abroad for years and picked up all sorts of bits of knowledge and we share a deep love of food and feeding those whom we love.
(G. Bisbjerg 1:25pm October 23, 2011)
We went as the usual ghosts, hobos, baseball players. One year my sister was sick, so my Dad donned her small Little Red Riding Hood Cape and went Trick or Treating for her. I think he was the tallest kid and the biggest one out there.
(Alyson Widen 2:36pm October 23, 2011)
My mother inspired some of my creative skills since she was always good in art and drawing, and also, knitting. My Home Economics teacher in junior high sewing class was a strict perfectionist, but it still inspired me to have a great love for sewing. Since we had two sewing machines at home, I was constantly sewing all my clothes, as well as, giving my neighbor girlfriends sewing instructions and teaching them to sew garments for themselves. I always loved making crafts and painting. I later taught myself crocheting, cross-stitching, and quilling. I really got into making many items because I was so passionate about everything I'd get into making. My ex-mother-in-law inspired me, along with what I'd learned in Home Economics in school, to love cooking. She always had so many fantastic recipes from her church and neighborhood gals, that I'd copy and make. I got many good recipes throughout the years from co-workers and from friends that I love, and now pass them along to my grown children, who have enjoy making their favorites they'd enjoyed as kids at home. Halloween costumes and make-up for my 3 kids was always fun. We'd put together homemade ones and they'd get so many good praises and comments on them. One neighbor thought my son's makeup was professionally done--she asked him about it and couldn't believe it when he told her his mother did it, because of all the shading involved in his skeleton face. He was excited to tell me about it when he came home, how everyone was telling him how good he looked. I also taught myself embroidery when I was younger and made a lot of pillow cases and dresser scarves (something I haven't done in years, only because it's very time-consuming). I still love to do everything else including making ornaments and of course, my love of reading books! Love your book cover art for "Dire Threads."
(Linda Luinstra 3:05pm October 23, 2011)
My grandmother. She cooked, baked, sewed, crocheted, knitted, needle pointed and painted. For what ever reason my mother had no desired to any of these, but my grandmother took the time to be sure my sister and I had the opportunity to learn if we wanted. I love to cook and needle point and my sister bakes because of her.
(Diane Chenier 3:08pm October 23, 2011)
My elderly neighbor was an important influence. She was famous locally for her knitting and everyone in town had an "Angie Sweater". I remember being very small and she asked me what kind of animal that I would like. I told her a turtle, and she proceeded to knit a turtle in front of my eyes. the turtle has traveled with me everywhere and still has a place of honor in my bedroom.
(Jackie Stieghorst 3:13pm October 23, 2011)
Janet, I love that you were a potato! How creative is that. I think my most
creative was dressing as an exotic dancer, veils and all, that were made of my
pajamas. Lots of eye makeup. I was very into the whole dramatic thing. (Still
haven't lost that, I guess.) My mother was great at using what was at hand.
She was a sewer, she knitted, though none of things were her ultimate
passion. She was a reader most. And that is what I took from her. But I
learned to sew from my girlfriend's mother. A denim skirt was the first
project. Threading the needle. I went on to sew all my dresses, my prom
dress, and all my son's Halloween costumes - until he wanted to be an X-
Man. Then the buying started. I continue to sew to this day, though usually
they're all repairs. I rarely have the time to sew, sew, sew, and I think I'd
rather read. :)

~Avery Aames aka Daryl Wood Gerber
(Daryl Wood Gerber 4:30pm October 23, 2011)
For me it was my grandmother. She always supported & encouraged me in all aspects of the arts. I remember resisting from time to time wondering why am I learning this or that but as I got older those lessons have been invaluable. I am so lucky that she planted those first seeds of creativity.
(Stacie Amelotte 6:54pm October 23, 2011)
My grandmother was very creative and so is my father. I don't think anyone ever encouraged me but noone ever discouraged me!
(Jennifer Beyer 7:07pm October 23, 2011)
My mom was the one encouraged to be creative,she was a wonderful mom. Book sounds great, Thanks for giving me a chance to win it.
(Linda Hall 7:17pm October 23, 2011)
I learned to sew in home ect in school and taught my sister to so. She then started quilting and taught me how to quilt. So I guess we learned from each other.
(Gail Hurt 7:43pm October 23, 2011)
My Mom was unfortunately not a cook, baker or sewer. I learned a few things from my Aunt but the majority was watching tv and trial and error.
(Christine Arcidiacono 8:52pm October 23, 2011)
As a preschooler, my mother told me wonderful fairy tales while she performed her household chores so that I later never minded those activities and as well became a prolific reader. When I was barely 6 years old, my mother gave me a child's Singer sewing machine--a solid black miniature of her own portable. I commenced making doll clothes and later my own Halloween costumes. The next year, she began teaching me to cook by promoting me to apprentice. When I was seven, my father prepared a small garden plot for me so that I could grow flowers and create floral arrangements to compete in the junior division of the local Garden Show when my mother was the town's Garden Club President. I was given watercolors and colored pencils and encouraged to paint and draw. Later I did so for my high school science projects. My mother encouraged me to write while she composed poetry when my father was away from us on long TDYs and unaccompanied tours from which he would return with interesting foreign dolls for my collection. We lived around the world, moving frequently, due to his assignments as well as to my parents love of traveling and desire to expose me to world wide art and history. The Home Economics teacher in my third high school tried to persuade me to major in that subject in college, but I majored in English as an undergraduate, completed an MLS, and then became a Librarian with the good fortune to develop library collections and to create unusual, topical and seasonal displays. My home is filled with displayed art and varietal collections gathered throughout my life; I prefer the artisan object to any other even now. I have been stimulated by the world around me all of my life. Your novel would find a most appreciative home with me!
(Carla Schuller 9:32pm October 23, 2011)
My mom is the one to inspired all different creative things in my life. Book sounds great.
(Amy Milne 9:46pm October 23, 2011)
My mother was very creative- she found ways to make items to sell and dress all 7 of us on almost no money. We all love to sew and craft.
(Roseann Moss 9:58pm October 23, 2011)
I always looked up to my Grandmother. Never had an electric sewing machine,but could sew anything on a treadle ( which didn't even have a reverse). My first machine was a treadle,of coarse, but with a reverse. She was also skilled in any type of needlework.
(Sheila True 10:16pm October 23, 2011)
I can't sew to make clothing or quilt. I can only sew just to repair the damage or doing helming on pants. My parents were more for academic than for creativity.
(Kai Wong 10:36pm October 23, 2011)
I am a pretty creative person. I love to throw a good party. I love planning the menu, inviting people over, and then having fun. I love to do stuff with my kids at school. I am actually just getting ready to help do a halloween party at my daughts school. It is going to be fun and 5 of us moms are rocking the party. I also do things with my school and will be doing his valentines day party. Thanks for the chance to win.
(Chris Bails 11:05am October 24, 2011)
My grandmother. She raised me, has the best
taste. She taught me to cook, paint, decorate,
sew, crochet,.. she has taught me everything, she
would make up stories and songs just like that..I
know any creativity in me was forge with her.
Thank God for her and all the happiness she has
brought into my life.
(Carla Carlson 10:01pm October 24, 2011)
Registered users may leave comments.
Log in or register now!