L.L. Bartlett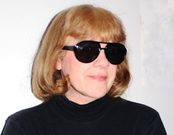 Contests
Win a $10 Gift Card from Suspense Author L. L. Bartlett! Plus a free download for all!

Social Media:
BLOG
PINTEREST
GOODREADS
TWITTER
FACEBOOK

E-mail me when L.L. Bartlett releases a new book.
Blogging at Fresh Fiction
L. L. Bartlett | Meet Jeff Resnick, your next favorite sleuth
April 2, 2018
Jeff Resnick never asked for the gift he was given. Gift? More like a curse. And that curse was? Becoming a little bit psychic. But Read More...
Pseudonym for Lorraine Bartlett.
Pseudonym: Lorna Barrett.

Lorraine Bartlett writes the Victoria Square Mysteries. Under the name L.L. Bartlett, she writes the Jeff Resnick suspense series. She also writes the Agatha-nominated, New York Times bestselling Booktown Mystery series under the name Lorna Barrett.
Lorraine says: "My mind has always been filled with what my father called "tommyrot." I called them stories. But it wasn't until I was a teenager that I started writing them down--and much later until I sold my first short stories. (Romance!) But in my heart I wanted to write mysteries."
Series
Jeff Resnick Mysteries | Jeff Resnick's Personal Files
Books:
A Part of the Pattern, September 2017
Jeff Resnick's Personal Files #7
e-Book
Shattered Spirits, August 2016
Jeff Resnick Mysteries #7
Paperback
Off Script, June 2016
e-Book
A Jeff Resnick Six Pack, September 2015
e-Book
Eyewitness, June 2015
Jeff Resnick's Personal Files #6
e-Book
Crybaby, February 2015
Jeff Resnick's Personal Files #5
e-Book
Spooked, October 2014
Jeff Resnick's Personal Files #4
e-Book
Evolution, January 2014
Jeff Resnick's Personal Files #8
e-Book
Bah! Humbug, December 2013
Jeff Resnick's Personal Files #2
e-Book
Dark Waters, October 2013
Jeff Resnick Mysteries #6
Paperback
Room at the Inn, September 2012
Jeff Resnick Mysteries #3
Paperback
When the Spirit Moves You, November 2011
Jeff Resnick's Personal Files #1
e-Book
Bound by Suggestion, March 2011
Jeff Resnick Mysteries #5
Paperback
Dead In Red, March 2011
Jeff Resnick Mysteries #2
Paperback (reprint)
Cheated By Death, October 2010
Jeff Resnick Mysteries #4
Paperback
Murder On The Mind, October 2010
Jeff Resnick Mysteries #1
Paperback
Cold Case, April 2010
Jeff Resnick's Personal Files #3
e-Book