Giuliana Rancic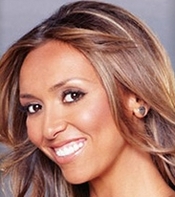 Giuliana has been anchor and managing editor of E! News since January 2005. She joined E! News as a correspondent in 2002, handling a variety of stores and events for E! News.
Prior to coming to E!, Giuliana covered entertainment news online, serving as an anchor at Load Media, as well as an entertainment journalist for Detour magazine's website. She later transitioned into television as a producer for MGM's nationally syndicated series Uncovered, where she also made her mark as on on-air-talent.
Born in Naples, Italy, Giuliana first realized her dreams of becoming a television journalist at age six, after moving to Washington, D.C., with her family. Unable to afford a tutor, she learned English by watching television before enrolling in the public school system.
After high school, Giuliana attended the University of Maryland, where she received a B.A. in journalism. She earned her master's degree in journalism from the American University in D.C. While in attendance, Giuliana served as a features correspondent for the syndicated university television station, covering a number of stories related to the Pentagon., Supreme Court, White House and State Department,.
Upon graduation, Giuliana returned to her true passion—entertainment—and relocated to Los Angeles, where she currently resides.
Series
Books:
I Do, Now What?, October 2010
Hardcover