Joshua Corin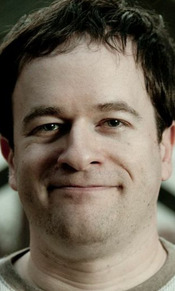 Blogging at Fresh Fiction
Joshua Corin | My Ten Commandements for Being an Artist
November 7, 2010
The bookshelves at your local brick-and-mortar bookstores are teeming with how-to-write manuals. For the young fiction writer, there are classics such Read More...
Joshua Corin grew up in Warwick, RI, where he wrote his first short story, a seriocomic missive about a young vampire with a loose tooth, at the age of 8. He occupied much of his childhood with writing, often hunched over an IBM Quietwriter at the wee hours of the morning, and his efforts won him many accolades, including first place in the prestigious Young Authors contest.
In college, he branched out into playwriting and staged over twenty productions of his work. One of these plays, a ten-minute drama entitled "Eventually," later went on to be a finalist for the Heidemann Award at the Humana Festival in Louisville, KY.
Not content to just write prose and theatre, Joshua next delved into screenwriting and into 2001 his feature-length script Windfall won first place in the Open Door Contest co-sponsored by Script Magazine and Dimension Films. This helped to secure him an agent and manager in Los Angeles, and they in turn assisted in getting his first novel, the screwball thriller Nuclear Winter Wonderland, published with Kunati Books in 2008. Nuclear Winter Wonderland later went on to be named by Booklist as one of the top ten debut crime novels of the year.
His next work, While Galileo Preys, is the first in a series about a Long Island housewife-crimefighter named Esme Stuart. It will be published by MIRA in September 2010, and its sequel, As Cain Waits, will be published in February 2011. In the meantime, he remains an instructor in English and theatre at a commuter college in Atlanta, GA.
Series
Books:
Cost of Life, March 2015
e-Book
Before Cain Strikes, April 2011
Esme Stuart #2
Mass Market Paperback
While Galileo Preys, September 2010
Mass Market Paperback