Rory Tahari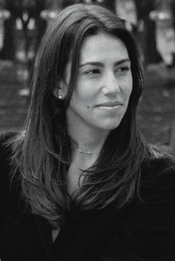 As Vice Chairman of the Elie Tahari company, Rory Tahari has elevated the Elie Tahari label from one of the fashion industry's most enduring brands to one of its most successful. Since joining the company in 1998, annual global revenues have risen from $50 million to over $500 million. Under her direction, Rory Tahari has implemented strategies that have transformed the company into a major force in the fashion industry, capturing an ever-widening global customer base.
Rory Tahari oversees the company's strategic development. Focusing on the worldwide expansion of the brand, she created a clear and compelling vision by overseeing wholesale and retail expansion in both US and international markets. She also has worked closely with Chairman, Elie Tahari, in developing new retail concepts and product collections, such as menswear, handbags, and shoes. Creatively, she oversees advertising, marketing and public relations on a global level. The company has been covered in Vogue, W magazine, In Style, Harper's Bazaar, Elle, Time magazine, The New York Times, and many more.
Rory Tahari came to the company following a career in television production, as a producer in entertainment and TV news programs. She earned her BA in Journalism at Boston University.
Rory Tahari is a board member of The Presidential Forum on Renewable Energy. She is also on the board of the non-profit organization Friends in Deed, a support group for people or those who have family members suffering from life threatening illnesses. She also is involved with several charities, such as New Yorker's For Children, which lend their support to foster children in need. In 2002, Tahari, with her husband Elie, established the Tahari Family Foundation which contributes to a wide range of philanthropic and cultural institutions.
Series
Books:
Lists For Life, October 2009
Paperback