Keith Ferrazi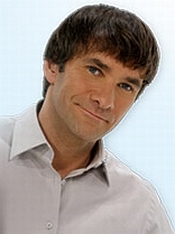 Keith Ferrazzi transformed professional networking with his bestselling book Never Eat Alone, which shared the secret of his impressive climb to the top: powerful marketing acumen, deep generosity, and a remarkable ability to connect with others. Never Eat Alone has been recognized by Forbes as one of "the best business books" every year since 2005. Both Forbes and Inc. have called him "one of the world's most connected individuals."
As founder and CEO of the business consulting firm Ferrazzi Greenlight (www.ferrazzigreenlight.com), Ferrazzi counsels the world's top enterprises on how to dramatically accelerate the development of business relationships to drive sales, spark innovation, and create team cohesion. As a thought leader and advocate for corporate citizenship, he has rallied executives around initiatives to improve healthcare and education nationwide. His annual Big Task Weekend event brings together key executives from companies such as Kaiser Permanente, Safeway, and Mars to draft innovative partnerships to improve American health and wellness.
Ferrazzi is a frequent contributor to CNN and CNBC. He has authored numerous articles for leading business and consumer publications, including Forbes, Inc., Fast Company, The Wall Street Journal, the Harvard Business Review, and Reader's Digest. He has been named a "Global Leader of Tomorrow" by the World Economic Forum and one of the most creative Americans in Richard Wurman's Who's Really Who. Ferrazzi's extraordinary rise to prominence has even inspired a Stanford Business School case study.
Ferrazzi was previously Chief Marketing Officer at Starwood Hotels, where he oversaw marketing activities for global brands including Sheraton, Westin, The Luxury Collection, St. Regis, and W Hotels. Ferrazzi also served as Chief Marketing Officer for Deloitte Consulting, a leading global management consulting firm, where he developed and managed the industry's first globally integrated marketing organization. His creative strategy drove Deloitte's "Consulting" brand recognition from the lowest in the industry to a top spot, spurring the highest featured growth rate in the industry.
Ferrazzi serves on the Yale University Board of Alumni Governors and the Board of Trustees of the Kiski School, and is also a Fellow of the Berkeley College at Yale. Ferrazzi's interests also include an examination of the relationship between leadership success and spirituality.
Series
Books:
Who's Got Your Back, May 2009
Hardcover