E. D. Hill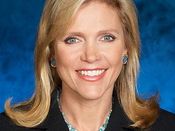 E.D. Hill joined FOX News Channel (FNC) in March of 1998. Hill most recently anchored "America's Pulse" from 2-3pm ET Monday through Friday. Previously, Hill hosted "FOX News Live" from 11am-Noon ET. She also co-hosts Bill O'Reilly's "Radio Factor." Previously, Hill was a co-host on the Fox News Channel's morning show "Fox & Friends" since 1999.
Before joining FNC, Hill was a contributing reporter for ABC News' "Good Morning America" from 1995 to 1998 covering family issues. Before that, she served as the morning and noon anchor for ABC's flagship station in New York, WABC-TV.
Prior to WABC-TV, Hill was WHDH-TV's (NBC-Boston, MA) mid-day news anchor, where she won a local EMMY Award for "Outstanding News Special." Earlier in her career, Hill served as a business anchor for CBS Morning News and CBS Radio Network and was the anchor for WPXI-TV's (NBC-Pittsburgh, PA) evening newscasts.
A graduate of University of Texas and mother of eight children, Hill is also the recipient of a Golden Quill Award for live spot news reporting.
Series
Books:
I'm Not Your Friend, I'm Your Parent, September 2008
Hardcover