Sherry Thomas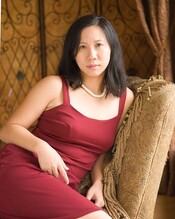 Blogging at Fresh Fiction
Sherry Thomas | What You Can Learn From Reading and Writing Historical Novels
May 25, 2010
My favorite way to learn history is to come across it via fiction. Of course, since my favorite kind of history is not the chronicle Read More...
Sherry Thomas | Am I a paranormal reader? Sure I am!
March 25, 2008
A couple of weeks ago, I called a local romance-friendly bookseller to invite her to have lunch with the published authors of my RWA Read More...
Sherry Thomas | A very fine setting
December 27, 2007
After a voracious romance reader had read an advance copy of my debut historical romance, Private Arrangements, she emailed and told me that she loved Read More...
Sherry Thomas burst onto the scene with PRIVATE ARRANGEMENTS, a Publisher Weekly Best Book of 2008. Her sophomore book, DELICIOUS, is a Library Journal Best Romance of 2008. Lisa Kleypas calls her "the most powerfully original historical romance author working today." In addition to enthusiastic endorsements from trade publications and New York Times bestselling authors, her books have also received stellar reviews from many of the most highly trafficked romance review websites and blogs.
Her story is all the more interesting given that English is Sherry's second language—she has come a long way from the days when she made her laborious way through Rosemary Roger's SWEET SAVAGE LOVE with an English-Chinese dictionary. She enjoys digging down to the emotional core of stories. And when she is not writing, she thinks about the zen and zaniness of her profession, plays computer games with her sons, and reads as many fabulous books as she can find.
Series
Lady Sherlocke
Books:
A Conspiracy in Belgravia, September 2017
Lady Sherlocke
Trade Size
A Study In Scarlet Women, October 2016
The Lady Sherlock Series
Trade Size
The One in My Heart, April 2015
Paperback
My Beautiful Enemy, August 2014
Paperback
The Luckiest Lady in London, November 2013
Mass Market Paperback
The Burning Sky, September 2013
The Elemental Trilogy, #1
Hardcover
A Dance in the Moonlight, March 2013
Paperback
Tempting The Bride, October 2012
Fitzhugh Trilogy #3
Paperback
Ravishing The Heiress, July 2012
Paperback
Beguiling The Beauty, May 2012
Paperback
His At Night, June 2010
Mass Market Paperback
Not Quite A Husband, May 2009
Mass Market Paperback
Delicious, August 2008
Paperback
Private Arrangements, April 2008
Paperback

Videos