C.L. Wilson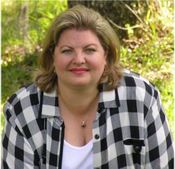 Click here to join me for a weekend of fun at READERS & 'RITAS, Nov. 9-11, 2018 in Allen, TX.
Born in Houston, TX while my parents worked at NASA to help put a man on the moon, and raised on a heady combination of space food and the fairy tales I insisted my mother read to me, is it any wonder I grew up to write stories about other worlds? (To be honest, I think the clinchers were the release of George Lucas's original Star Wars and my discovery of both Anne McCaffrey's Dragonriders of Pern and J.R.R. Tolkien's Lord of the Rings.)
Being more inclined towards artistic rather than engineering or hard-science endeavors, my stories naturally migrated into the realm of fantasy where imagination is king and anything is possible. Combine that with a love for historical romances, and a cradle-born fascination with myths, legends, and lore, and—voila!—you have a fantasy romance / romantic fantasy novelist.
I am not what you might call an overnight success. I have been writing and honing my craft for years—and will continue to do so for many, many years to come. For all the gory details about my road to publication, click here.
I currently reside with my husband, our three wonderful children, and our little black cat, Oreo, in a gulf-coast Florida town about an hour south of Tampa. We live on a secluded eight acres filled with moss-covered hundred-year-old live oaks, where we enjoy local wildlife including a small herd of deer, alligators, wild pigs, a nesting pair of peregrine falcons, bald eagles, foxes and even the occasional Florida panther.
I have a delightful, close-knit family, including my much-loved and very supportive parents, two sisters, a brother, assorted nieces, aunts, uncles, and in-laws, and one very charming red-headed grandmother who has always been the fashion plate of the family.
Series
Mystral | Tairen Soul
Books:
The Sea King, November 2017
Mystral #2
Mass Market Paperback
The Winter King, August 2014
Mystral #1
Paperback
Crown of Crystal Flame, November 2010
Tairen Soul #5
Mass Market Paperback
Lord Of The Fading Lands, October 2010
Mass Market Paperback (reprint)
Lady Of Light And Shadows, October 2010
Paperback (reprint)
Queen of Song and Souls, November 2009
Tairen Soul #4
Paperback
King of Sword and Sky, October 2008
Tairen Soul #3
Mass Market Paperback
Lady of Light and Shadows, November 2007
Tairen Soul #2
Mass Market Paperback
Lord of the Fading Lands, October 2007
Tairen Soul #1
Mass Market Paperback

Videos
Click Title to Play
The Winter King