Jonathan B. Levine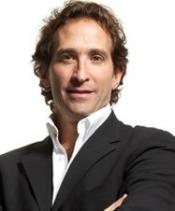 Jonathan Levine, DMD, is a man with a mission: To give the world a reason to smile. A "smile beauty" practitioner for more than two decades, Dr. Levine is an accomplished aesthetic dentist, professor, product innovator, entrepreneur, author and philanthropist. His dental practice, located on Fifth Avenue in New York City, attracts high-profile members of the fashion community, social circuit and Hollywood elite. In 2002, he and his wife, Stacey, co-founded the revolutionary smile-beauty company GoSMILE.
Recognized around the world as an authority on cosmetic dental procedures, Dr. Levine has always been on the cutting edge of aesthetic dentistry. He was one of the first dentists in the United States to apply porcelain veneers and among the first in the world to offer in-office tooth-whitening services. As an Associate Professor at New York University School of Dentistry and a published researcher, Dr. Levine is equally committed to influencing the next generation of dentists as he is to providing smile care and education to people in places that need it most. As such, he contributes his time and services to organizations such as Operation Smile, which works to correct childhood facial deformities around the world.
In the early 1990s, Dr. Levine developed the revolutionary GoSMILE formula for his celebrity patients who wanted to whiten their teeth simply, effectively and safely. Nine years later, the GoSMILE tooth whitening on the go(tm) System debuted at Saks Fifth Avenue, instantly transforming the beauty landscape and paving the way for what has become the hottest emerging category of the beauty business today. GoSMILE soon found its way onto the selling floors of America's most prestigious retailers, including Bergdorf Goodman and Nordstrom, and specialty retailers such as Sephora and Ulta. The line has since expanded to include GoSMILE daily, GoSMILE am/pm whitening toothpaste, and GoSMILE Advanced Formula B1. Today, GoSMILE is also available in Australia and most recently, in France, Italy and soon in Canada ans Spain, exclusively at Sephora.
Embraced by both the media and beauty industry insiders, Dr. Levine was recently added to the editorial advisory board of Men's Fitness magazine. He has been featured on the television programs The View, Good Morning America, CNN, VH1's Hard Bodies and the Style Network's Stripped. USA Today and US Weekly named him a top celebrity dentist, and makeup artists, plastic surgeons, and journalists frequently consult him for his smile counsel.
Dr. Levine's professional affiliations include: the College of Prosthodontics, Northeast Gnathological Society and the Academy of Osseointegration. He also sits on the Board of Medical Advisors for Advanced Aesthetics Institute (AAI) where he chairs the dental vision and initiatives for the company. A two-time All American lacrosse player, he received his B.A. from Cornell University and his doctorate from the Boston University School of Dentistry, with post-graduate training in Prosthodontics from New York University. Dr. Levine lives in Purchase, New York, with his wife and two sons, Cody and Julian, who bestowed GoSMILE with its name, making the company a true family affair.
Series
Books:
Smile, March 2006
Paperback