Sandra Lee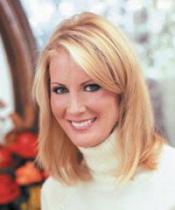 Sandra Lee is the internationally-acclaimed Lifestylist, New York Times bestselling author and CEO of Sandra Lee Semi-Homemade© Inc. – a multimedia corporation focusing on quick and easy solutions for everyday living conveyed through television, books, magazines, internet and branded products.
Sandra is a dynamic entrepreneur, mentor and friend. Her sense of "giving back" is evident through her philanthropy – she serves as a member of the Board of Directors of the Southern California Chapter of the U.S. Fund for UNICEF, is a member of the Board of Trustees of Project Angel Food (sister agency to God's Love We Deliver in New York City), is a generous supporter of NCCRA (National Colorectal Cancer Research Alliance) and has participated in Harvard Business School's annual Woman's Entrepreneurship Conference.
Sandra resides in Los Angeles and New York.
Series
Books:
The Recipe Box, July 2013
Hardcover
Every Dish Delivers, May 2013
Paperback
Easy Entertaining At Home, November 2011
Paperback
Semi-Homemade Great American Bake Sale, March 2011
Paperback
Semi-Homemade The Complete Cookbook, October 2010
Softcover
Semi-Homemade Money-Saving Slow-Cooking: 128 Quick-To-Cook Meals, October 2009
Paperback
Semi-Homemade Weeknight Wonders, October 2009
Paperback
Cocktail Time, October 2009
Paperback
Semi-Homemade Money Saving Meals, September 2008
Paperback
Semi-Homemade Grilling 2, March 2008
Paperback
Made From Scratch, November 2007
Hardcover
Semi-Homemade 20-Minute Meals 2, November 2007
Sandra Lee Semi Homemade
Paperback
Semi-Homemade Gatherings, December 2006
Paperback
Semi-Homemade 20-Minute Meals, November 2006
Hardcover
Semi-Homemade Grilling, March 2006
Hardcover
Semi-Homemade Cooking 2, September 2005
Trade Size