Giuliano Hazan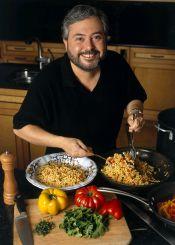 Like many other good cooks, Giuliano Hazan learned his craft from his mother. Only in Giuliano's case, the mother in question is Marcella Hazan, the woman who almost single- handedly introduced Americans to the authentic cuisine of her native Italy with her two landmark books, The Classic Italian Cookbook and More Classic Italian Cooking, published by Alfred A. Knopf in the mid-70's.

Giuliano inherited his mother's writing as well as her cooking skills. His first book, The Classic Pasta Cookbook, is an international bestseller with half a million copies in print in 16 countries and was a James Beard award nominee. He went on to write Every Night Italian which won the World Cookbook award for best Italian cookbook in the English language. It has received rave reviews including one from The New York Times which said the book "epitomizes authenticity... this food is genius ... genius distilled from history." His new book, How to Cook Italian, will be released on October 25.
Giuliano's kitchen experience began when he was seventeen years old at Marcella Hazan's renowned School of Classic Italian Cooking, where he worked his way up from assistant to teacher and director. With nearly twenty years of teaching experience, he now appears regularly at cooking schools across the U.S. and abroad. For 4 years he taught a widely attended course in Venice at the legendary Hotel Cipriani. In 2000 he and his wife, Lael, inaugurated a cooking school, Cooking with Giuliano Hazan, at Villa Giona, a restored Renaissance villa outside Verona, Italy. Together with their partner, Marilisa Allegrini, of the famed Allegrini Winery, they offer one week courses of total immersion in Italian food, wine, and life which draw professional and amateur chefs from all over the world.
Giuliano Hazan and Marilisa have also launched A & H Selections to identify and import "made-in-Italy" food specialties including a premium extra virgin olive oil made from prized Ogliarola olives grown in Apulia, and a red wine vinegar made in the Valpolicella area near Verona.
Series
Books:
Giuliano Hazan's Thirty Minute Pasta, September 2009
Hardcover
How to Cook Italian, October 2005
Hardcover
Every Night Italian, January 2000
Hardcover