Billy Crystal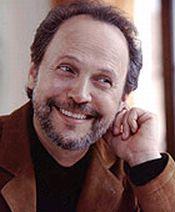 BILLY CRYSTAL has created one of the most versatile and prolific careers in the entertainment industry. Beginning with the popular series Soap, he went on to phenomenal success on Saturday Night Live, creating memorable characters, including his impersonation of Sammy Davis Jr. and Fernando of "You Look Mahvelous!" fame. A writer, director, and producer, Crystal was the first comedian to perform in the then-Soviet Union with his HBO special Midnight Train to Moscow. In addition, Crystal has hosted the Grammy® Awards three times, and, of course, the Oscars eight times.
Billy Crystal's children's book, I Already Know I Love You (HarperCollins), was an instant New York Times bestseller. Some of Crystal's most memorable films include Running Scared, Throw Momma From the Train, The Princess Bride, When Harry Met Sally, City Slickers I and II, Mr. Saturday Night, Forget Paris, Hamlet, Deconstructing Harry, Father's Day, My Giant, Analyze This and That, America's Sweethearts, and Disney's record-breaking Monsters Inc. Crystal's film 61* for HBO showcased him as a director and a producer, garnering 12 Emmy nominations and the prestigious Directors Guild nomination.
He and his wife, Janice, have been married for thirty-five years and have two daughters and one granddaughter.
Series
Books:
Still Foolin' 'em, September 2013
Hardcover
Grandpa's Little One, April 2006
Hardcover
700 Sundays, November 2005
Hardcover