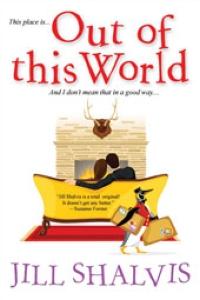 Purchase
Kensington Brava
September 2006
Featuring: Rachel Bond
320 pages
ISBN: 0758214448
Trade Size
Add to Wish List

Romance Contemporary | Romance Paranormal
I SHOULD HAVE STAYED IN BED
Um, so get this: Three weeks ago I, Rachel Bond, inherited a bed and breakfast. In Alaska. Just this morning I was in my warm bed in L.A. but now here I am, up north-and this is way north, like nose bleed north-sorting it all out. So:
PROS:
-Bears and wolves and moose and whatever else can't be any worse than LA guys.
-You know how people talk about "starving artists?" I'm gonna faint. So it's probably time for a change.
-My good friend Kellan-you'll like him, unlike moi he's calm and cool under pressure-suddenly has this animalistic sexiness I've never even seen before.
-Give me a minute. I think the "Cons" are going to be a lot easier.

CONS:
-ALASKA. Did I already mention this? Which means: Snow-lots
Cold-very
-Coffee shops, movie theatres, or what I like to think of as "culture"-not a chance.
-I can't even manage my checkbook-so a B&B is probably going to be a disaster.
-The house chef can't cook, and the guide can't read a map.
-Kellan's sudden hotness is getting very hard to ignore.
-I just got hit by lightning.

And I'm not sure if this is a pro or a con just yet but since that lightning bolt, I can see through everything. As in completely transparent. That was before things started to get really weird…
Comments
No comments posted.

Registered users may leave comments.
Log in or register now!