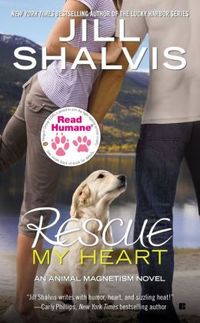 Purchase
Read Humane Rescue My Heart
Jill Shalvis
Animal Magnatism #3
Berkley
May 2013
On Sale: April 30, 2013
290 pages
ISBN: 0425268446
EAN: 9780425268445
Paperback
Add to Wish List

She never wants a hero… After a tragic stint in the National Guards, Adam Connelly returns to Idaho and to Belle Haven, the animal shelter he owns with his brothers. All Adam wants is to be alone. Then he opens the door to the past—the woman whose heart he once broke. Still gorgeous, still tough-as-nails, but this time, unusually vulnerable. Holly learned the hard way to never depend on a man for anything. Now, of all men, Adam is the last one she wants to see, and the only one she needs. Her father has gone missing in the Bitterroot Mountains and she could use someone with tracking skills to help find him. For Holly and Adam, each with their ghosts, a trek this desperate, this unpredictable, and this intimate, will have its share of risks—including opening their hearts one more time.
Comments
6 comments posted.
Re: Read Humane Rescue My Heart

Great picks and story. My daughter got her cats over the
years from the pound.
(Alyson Widen 8:48pm May 1, 2013)
In this economy, the latest thing that is happening where I live, is that people are taking their animals, and dumping them, especially cats, out here in the country, when they see farmhouses, figuring they'll be taken care of. These cats end up either in fights and killed, hit by cars, or pregnant. We had a couple of cats that got pregnant, but were on the skittish side. My husband and I were able to get them to come by us finally. When they had their litters, they were actually in our apartment!! Our landlord was nice enough to let us keep 2 of the kittens. The other 6, along with the mothers, were taken to a place where they place kittens and cats and don't kill them, much to our relief!! Our babies just turned a year old, and bring us much joy throughout our day. We love dogs as well, and lost our dog a little over 2 years ago, but they're very expensive to keep right now, so for now, we're content with our cats!! Loved your stories, and they make me miss my dog Bandit all the more!!
(Peggy Roberson 9:45pm May 1, 2013)
The lady's rescue ranch sounds just like my daughter's dream
of someday. She's spent her life rescuing animals and getting
a BS degree in Animal Science. Someday when she has money
she'll have a place like that!
(Lenna Hendershott 7:00pm May 2, 2013)
Lovely tale of the pup!
I support animal rescue charities and I looked after my own two mares, paying livery, until they died of old age in their twenties, unlike many people who just get horses put down that are not ridden any more.
You may not be aware that one of Texas's major exports is horsemeat. Here in Ireland we are carrying out DNA testing of all processed meat products to determine exactly what animals were used to make them, as horsemeat has been turning up in supposed beef dishes.
I enjoyed your Lucky Harbour series and must give the animal rescue ones a try.
(Clare O'Beara 11:26am May 4, 2013)
I have had many doga cats guina pigs hamsters etc.Ilove dogs the most though.I had to put down my wonderful golden lab.Since then my kids bought me a zhitzu and I rescued a shitzu from being put down .The owners didnt have time for him anymore.He is a fantastic loveable dog.their loss my gain.
(June Leas 8:42am May 6, 2013)
All my four footed companions have been rescues. My latest one was 12 when she came to us. My partner past away in September and she has been my constant companion. She has been the one thing that has kept me grounded. She will be 15 in July and acts like a pup. Thank God for her.
(Pat Freely 9:07pm May 23, 2013)
Registered users may leave comments.
Log in or register now!