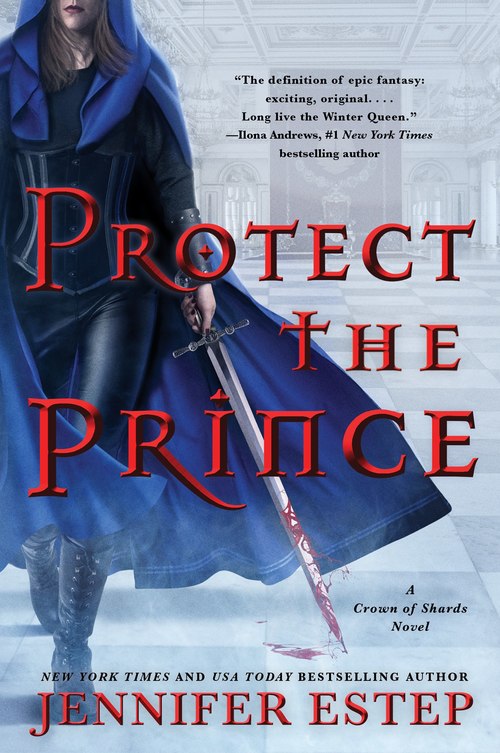 Purchase
Crown of Shards #2
Harper Voyager
July 2019
On Sale: July 2, 2019
Featuring: Everleigh Blair (Evie); Lucas Sullivan
416 pages
ISBN: 0062797646
EAN: 9780062797643
Kindle: B07CRDFG8H
Paperback / e-Book
Add to Wish List

Magic, murder, adventure, and romance combine in this second novel in the exciting Crown of Shards saga from New York Times and USA Today bestselling author Jennifer Estep.

Everleigh Blair might be the new gladiator queen of Bellona, but her problems are far from over.

First, Evie has to deal with a court full of arrogant, demanding nobles, all of whom want to get their greedy hands on her crown. As if that wasn't bad enough, an assassin tries to kill Evie in her own throne room.

Despite the dangers, Evie goes ahead with a scheduled trip to the neighboring kingdom of Andvari in order to secure a desperately needed alliance. But complicating matters is the stubborn Andvarian king, who wants to punish Evie for the deaths of his countrymen during the Seven Spire massacre.

But dark forces are at work inside the Andvarian palace, and Evie soon realizes that no one is safe. Worse, Evie's immunity to magic starts acting in strange, unexpected ways, which makes her wonder whether she is truly strong enough to be a Winter Queen.

But Evie's magic, life, and crown aren't the only things in danger—so is her heart, thanks to Lucas Sullivan, the Andvarian king's bastard son and Evie's . . . well, Evie isn't quite sure what Sullivan is to her.

Only one thing is certain—protecting a prince might be even harder than killing a queen…
Crown of Shards
Comments
13 comments posted.
this is the best novel on murder and romance and tattoo symbol are top secrets. i will going to buy this book. my many friends recommended it.besttattooguide
(Ryan Smith 4:41am July 9, 2019)
This book looks amazing!
(Annette OMullan 12:27pm July 13, 2019)
Brenda Dickson, 7-13-19. I loved the interview! I am
looking forward to reading "Protect the Prince" so much.
Can't wait to see what happens next in this series. I
absolutely LOVE the cover also. I always love the rapid
fire questions/answers in these interviews and I am so
glad that you always use a bookmark and do not dog-ear
your books! You are also a morning person! Thank you for
your wonderful books.
(Brenda Lee Dickson 2:11pm July 13, 2019)
Great interview. I haven't had the chance to read this series but it does
sound amazing.
(Annetta Sweetko 2:58pm July 13, 2019)
I cant wait to read this one!
(Amber Hall 3:04pm July 13, 2019)
Looks very exciting.
(Thomas Gibson 7:37pm July 13, 2019)
I so enjoyed the first in the series and have been anxiously awaiting Protect
the Prince.
(G. Bisbjerg 12:03pm July 14, 2019)
enjoyed the interview--love the nail polish color
(Denise Holcomb 12:56pm July 14, 2019)
was a interesting article
(Vickie Couturier 7:48am July 14, 2019)
I liked the interview
(Ron Frampton 9:20am July 14, 2019)
You got my attention the moment you used the words MAGIC, IMAGINATION and ROMANCE.
(Anna Speed 4:40pm July 14, 2019)
I love the first book you wrote for this series. Very strong characters. I am on the library list waiting to check this out when I can. I love how you use magic and imaginations within this book.
(Sherrie Wood 6:16pm July 14, 2019)
Protect the Prince looks like a book with plenty of action
and a strong female lead who knows her way around and with
a sword.
(Alyson Widen 2:24pm July 15, 2019)
Registered users may leave comments.
Log in or register now!