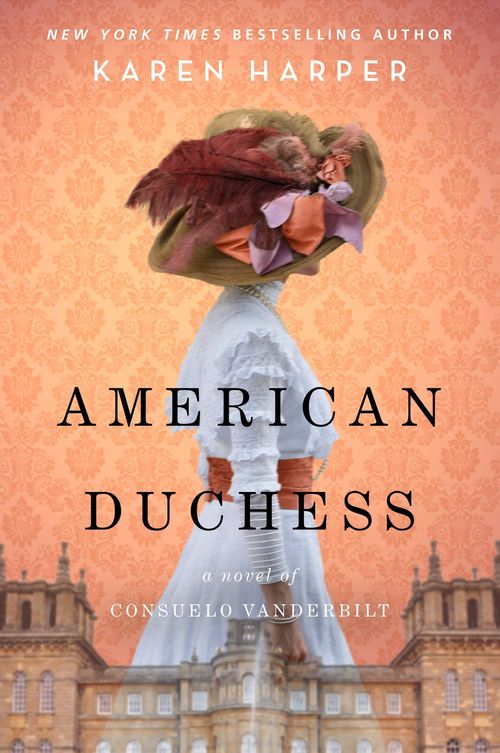 Purchase
A Novel of Consuelo Vanderbilt
William Morrow Paperbacks
March 2019
On Sale: February 26, 2019
Featuring: Consuelo Vanderbilt
368 pages
ISBN: 0062748335
EAN: 9780062748331
Kindle: B075WSNKL5
Paperback / e-Book
Add to Wish List

Before there was Meghan Markle, there was Consuelo Vanderbilt, the original American Duchess.
Karen Harper tells the tale of Consuelo Vanderbilt, her "The Wedding of the Century" to the Duke of Marlborough, and her quest to find meaning behind "the glitter and the gold."
On a cold November day in 1895, a carriage approaches St Thomas Episcopal Church on New York City's Fifth Avenue. Massive crowds surge forward, awaiting their glimpse of heiress Consuelo Vanderbilt. Just 18, the beautiful bride has not only arrived late, but in tears, yet her marriage to the aloof Duke of Marlborough proceeds. Bullied into the wedding by her indomitable mother, Alva, Consuelo loves another. But a deal was made, trading some of the vast Vanderbilt wealth for a title and prestige, and Consuelo, bred to obey, realizes she must make the best of things.
At Blenheim Palace, Consuelo is confronted with an overwhelming list of duties, including producing an "heir and a spare," but her relationship with the duke quickly disintegrates. Consuelo finds an inner strength, charming everyone from debutantes to diplomats including Winston Churchill, as she fights for women's suffrage. And when she takes a scandalous leap, can she hope to attain love at last…?
From the dawning of the opulent Gilded Age, to the battles of the Second World War, American Duchess is a riveting tale of one woman's quest to attain independence—at any price.
Comments
23 comments posted.
Re: American Duchess

Loved every minute of this book. The descriptions, the writing, and most particularly, the first person narrative.
(Miriam Kahn 5:45pm March 4, 2019)
Thank you for the opportunity to read more about Consuelo Vanderbilt.
Wow what an intriguing story. Your synopsis was so interesting I just spent
the last 30 minutes googling Consuelo. What a fascinating life she lead. I
would love to read your book!
(Kathy Roope 9:53am April 17, 2019)
I love those old portraits and pictures sounds and looks
amazing
(Vickie Couturier 10:53am April 17, 2019)
Wow this is a fascinating topic. Consuelo sounds pretty amazing.
(Jana B 12:16pm April 18, 2019)
We live about an hour from the Biltmore, the Vanderbilt home, in
Asheville, NC and have visited it several times. We visited the
mansions in Newport, RI. It is very obvious that their life styles and
priorities were very different from the rest of us. Their wealth
allowed them to be patrons of the arts, even if was to enhance their
mansions in competition with one another. It is sad the number of
mansions that were razed during and after the depression. So much
art was lost. Marrying off daughters to gain a noble title in the
family was just another form of competition among them. It is really
sad that their children, mostly daughters, were considered
commodities to be used to advance the family's position and
influence. Even more sad is the predatory actions of British royalty
on the hunt for a rich American girl to solve their financial problems.
To be married for just your family's money and not for yourself must
have been crushing for most of them. How very sad for Consuelo
to have such a mercenary mother.
(Patricia Barraclough 12:38pm April 18, 2019)
I doubt the Duke was actually shorter than Consuelo--she had heels and big hair.
And why should we attack a man if he actually is shorter than a woman? Is he
unworthy of his wife? Is she degrading herself by marrying a shorter man? That
is plain old bigotry!
(John Smith 12:29pm April 18, 2019)
I'm looking forward to reading more. I hope that she was able to come to love, or at least admire her husband.
(Lorena Keech 5:54pm April 18, 2019)
sounds like a really great book!
(Lauri Crumley Coates 6:34pm April 18, 2019)
Thank you for the chance and looking forward to
reading American Duchess :)
(Gail Vaughn 6:35pm April 18, 2019)
I would love to read "American Duchess". It's amazing that
the wealthy actually arranged marriages for their children.
The dollar bride would be an interesting era to read about,
thanks for the chance.
(Dianne Casey 7:10pm April 18, 2019)
This is my favorite time period - and having such a strong female
character during a time when women were subjected to such horrors
makes this book even more interesting. I can't wait to read her
dialogue.
(Andrea Carroll 8:00pm April 18, 2019)
This book sounds very interesting, I've never heard of this
"tradition".
(Jill Waldmann 8:07pm April 18, 2019)
This is an interesting time. I'd like to read the book.
(Susan Beamon 8:23pm April 18, 2019)
As a reader and reviewer of historical fiction, especially
when it takes place in WWII, I have been looking forward to
reading American Duchess. Consuelo Vanderbilt occupied a
world of privilege but had little power to live her life as
she chose.

I first "discovered" Consuelo Vanderbilt when I read the
book, That Churchill Woman, the story of Jennie Jerome,
another American heiress who married into the English
nobility. Consuelo Vanderbilt was only a minor character in
that book, but I wanted to read more about her.
(Kt C 8:35pm April 18, 2019)
Just read The Last Castle about Biltmore and the Vanderbilts, so this will be one I need to read. I have always enjoyed your books and look forward to reading this one.
(Sharon Mitchell 9:05pm April 18, 2019)
What a fascinating book! Thanks for sharing the info about Consuelo Vanderbilt.
(Bonnie H 10:24pm April 18, 2019)
The life of Consuelo Vanderbilt is fascinating. It's sad that she was more or less forced into a loveless marriage, but at the same time, she managed to develop an inner strength.
(Anna Speed 12:43pm April 19, 2019)
love those old pics very nice
(Margo Beredjiklian 9:34am April 19, 2019)
I loved looking at the pictures and the book sounds like a
really good one!!
(Darlene Carroll 2:11pm April 19, 2019)
I just read That Churchill Women by Stephanie Barron I would
love to see Consulelas perspective in a time that was so
oppressive to women regardless of there station in life
(Candice Bennett-hiebert 5:11pm April 19, 2019)
Love reading these. Thank you for the chance
(Jean Craven 6:52pm April 19, 2019)
American Duchess sounds fascinating! Thank you for the
opportunity.
(Caryl Kane 10:35pm April 19, 2019)
Sounds interesting i love the old photos
(Danielle McDonald 4:30pm April 22, 2019)
Registered users may leave comments.
Log in or register now!