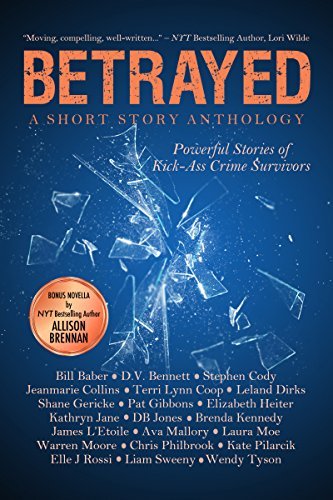 Purchase
Powerful Stories of Kick-Ass Crime Survivors
Author Self-Published
October 2017
On Sale: October 15, 2017
ISBN: 0999456512
EAN: 9780999456514
Kindle: B076GXM14Q
Paperback / e-Book
Add to Wish List

22 Crime Thrillers by bestselling, award-winning, and critically acclaimed authors!
What happens when the person you trust the most betrays you? That's the question posed in Betrayed, a powerful collection of stories about love, violence, and survival. The characters in these pages may suffer and bleed, but they fight back. They are survivors — not victims.
In Terri Lynn Coop's Legal Aid, an overworked lawyer takes on a complex divorce case that just may get her fired ... or killed.
An invalid who believes his neighbor is tormenting his young wife takes matters into his own hands in Wendy Tyson's Soap.
When a private investigator is hired to find someone who appears to have disappeared from the face of the earth, he questions whether some people should be found in How Not to Find Someone in Houston by Liam Sweeney.
And in Elizabeth Heiter's The Second Shot a teenage girl is convicted of murdering her abusive father ... but is she really guilty?
As a bonus, New York Times bestseller Allison Brennan contributed the novella, Mirror, Mirror, about what happens when a police detective suspects her sister is hiding a dark secret ... a secret that just may get them both killed.
These stories and more fill the pages of the first anthology published by Authors on the Air. Victims become victors and – hopefully – justice is served.
Every author has donated their time and stories. Profits from this anthology are being donated to programs and organizations that help victims of domestic violence reclaim their lives.
Comments
11 comments posted.
Re: Betrayed

I read rather than see the movies.
(Kathleen Bylsma 3:50pm November 15, 2017)
I like to read the books to see how close to them the movies are. I usually prefer the book.
(Kathleen Gardiner 8:55pm November 15, 2017)
see the movies
(Ann Unger 9:49pm November 15, 2017)
I prefer to read the book. It can include much more than the movie and very often details are changed when the movie is produced.
(Anna Speed 2:15pm November 18, 2017)
I usually prefer the book - a book can contain so many more
details - but the movie an be enjoyable too.
(Diane Sallans 9:26pm November 18, 2017)
I usually prefer the book because it is more detailed.
(Bonnie H 8:22pm December 20, 2017)
I am looking forward to enjoying The Broken Girls by Simone
St. James.
(Sharon Berger 12:57pm February 13, 2018)
In The Vines and Touch of Red, thank you!
Great choices, though!
(Kathleen Bylsma 5:45pm February 13, 2018)
I am looking forward to reading Touch Of Red and many others. I read a
book a week for my book club.
(Jackie Wisherd 11:23pm February 13, 2018)
I am looking forward to reading any new books by Sandra Brown
(Joy Isley 12:42pm February 15, 2018)
I am looking forward to reading new books by Melinda Leigh, Heather Graham and Sharon Sala.
(Anna Speed 1:10pm February 16, 2018)
Registered users may leave comments.
Log in or register now!