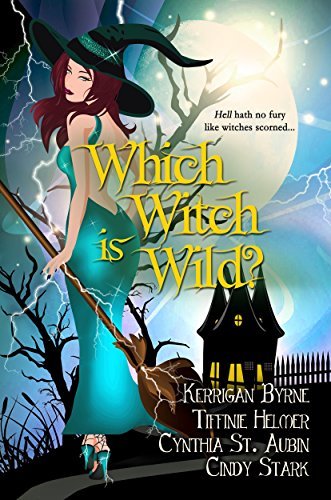 Purchase
The Witches of Port Townsend #3
Self Published
October 2016
On Sale: October 13, 2016
341 pages
ISBN:
Kindle: B01LOJO5K6
e-Book
Add to Wish List

Aerin So you played with some dark magic, what's the worst that could happen? For Aerin de Moray and her sisters, it's that witch hunters are no longer a 400 year-old problem. What is a girl to do with this new threat when she's already trying to coral zombies, fight a she-devil with a penchant for possession, all while attempting to thwart the prophesied apocalypse? You keep your sisters close, and your enemies closer… like in your bed.
Tierra Who has time to worry about the Apocalypse when you've accidentally sent your baby daddy to Hell? Dooming Death to Lucifer's infernal realms might have seemed like a good idea at the time, but with uncollected souls swarming the manor and her unborn child's alarming powers increasing by the minute, Tierra de Moray has a hell of a problem on her hands. With tensions rising between her sisters and chaos ruling the streets of Port Townsend, they can't afford to be one Horseman down. If Tierra can't find a way to rescue Killian Bane before the Devil gets her due, the world doesn't stand a ghost of a chance.
Moira So Satan is wearing your sister's body like a Chanel pantsuit…
For Moira de Moray, fending off witch hunters, dodging ghosts from her past, and surviving Conquest's insistent advances has become a full-time vocation. So when it comes time to serve Lucifer an eviction notice, Moira aims for the surefire solution—jealousy. But pretending to bump uglies with another Horseman could produce results more deadly than Moira had planned, particularly if Nick Kingswood has anything to say about it.
Claire
What girl wouldn't want to be in a love triangle with two men? Claire de Moray is caught between her first love and the fierce Horseman known as War. She needs to pick one and let the other go, but how can she make a life- altering decision when she's busy hunting the witch hunters who'd like to burn her at the stake? She's not afraid because she is Fire, but their arsenal is deadlier than she expects. Pushed to the limits, Claire takes a chance to save her family and stop the apocalypse, but gets far more than she bargained for.
Comments
No comments posted.

Registered users may leave comments.
Log in or register now!